The Villa
The ultimate Villa of the island. Villa Aphrodite –a brand new villa- inaugurated for the very first time on 2016- offers the guests a bit more than its real meaning.
This "Heaven on earth" 9 Bedrooms Villa with a private infinitive pool is the ideal Villa for the ones who wish to have the best vacation ever, with totally privacy, the very best view of the island during Day and Nights and the most privileged services and comforts they could imagine.
Read More
Read Less
On the first floor we find 5 rooms in total all en suite, Air Conditioned with a View of the infinitive Aegean Blue, huge beds and amazing mattresses with private balconies at the front. Guests can enjoy their privacy in front of the big blue with sun lounges and sun beds.
At the second floor, we find the pool area with a large living room decorated with natural unique and minimal items from around the world, where there are several areas for dinning, relaxing, swimming or having a party of a life time.
The pool of 90m2 is heated and the hit point is the underwater bar, which allows the guests to enjoy their cocktails in the water and of course to have fun and tranquility. Close to the pool, we find the BBQ area with outdoor dining tables, sunbeds and hammocks and many corners for isolation during reading or romance. Another private bar made of woods and champagnes is located at the very same area offering another private corner for champagne parties and more.
At the top of this area, we find another private deck of 200m2, ideal for the most unexpected photos in front of the sunrise or sunset, wedding experiences or bachelor parties to be remembered as a lifetime experience. At this floor, also, we find 2 of the master rooms, totally independent with 2 private decks at the front offering the best view, isolation for the guests or even the best treat for the ones who experience a massage or a yoga section. A fully equipped kitchen right next to the living room, offers the ability of diners or lunches with friends or parties.
At the third floor we find 2 Master rooms with independent entrances and the most luxury decoration all in white and pure romance. Between the 2 rooms we have a wooden deck with sunbeds and salons with music systems.
Villa Aphrodite is definitely the best Villa that someone could share with his family, friends or partners always by enjoying the best services. Ideal for weddings, unforgettable bachelor parties, yoga or other group gym sections and gay gatherings.
Have you decided on this villa?
Check availability online and proceed to a fast and secure booking!
Amenities
9 bedrooms
9 bathrooms
1 heated infinity pool
2 private bars
BBQ
Outdoor dining tables
Air Conditioning
Satellite Plasma TV
CD/DVD Player
Safety boxes
Sunbeds
Hammocks
Daily maid service
Daily pool maintenance
Private parking area
Internal Staff (upon request)
Services Included
Daily maintenance
Daily change of towels
2 times per week change of sheets
24h concierge services
Luxurious Transportation towards and from the airport or port
Confidentiality agreements
Safety
All guests can share 24h/7
King of Villas Services (Upon Request)
Airport/Port transfers
Chauffeur services - Disposal or on call
Car rentals
VIP table reservations
Event planning
Private chef
Helicopter Tours
Nanny
Bodyguards
Villa Policy
For July and August there is a min 5 nights stay.
For the rest of the seasons there is a min 4 nights stay.
Pets - please contact us for further details.
Check-in time 15:00 and Check-out time 12:00, unless otherwise agreed.
All villas have the license that provides their rent during any period.
Cancellation & Deposit Policy
In order to guarantee the booking a deposit of 50% via credit card or wire bank transfer is required (in case of stays of 3 nights or less deposit equals to the price of one night). Balance is due four weeks prior to the guests' arrival.
In case of cancellation 4 weeks prior to arrival throughout the season: full refund of deposit/50% of the full amount, will be retained (less bank charges for wire transfers only).
Non-show or early departure 100% of the reservation cost will be charged.
Distances from hot spots:
Mykonos Town: 5.9 km (3.67 miles)
Mykonos Airport: 8.8 km (5.47 miles)
Mykonos New Port: 5.1 km (3.17 miles)
Closest Beach (Agios Stefanos): 4.8 km (2.98 miles)
Principote: 9.2 km (5.72 miles)
Nammos: 10 km (6.21 miles)
Scorpios: 12 km (7.46 miles)
Villa Layout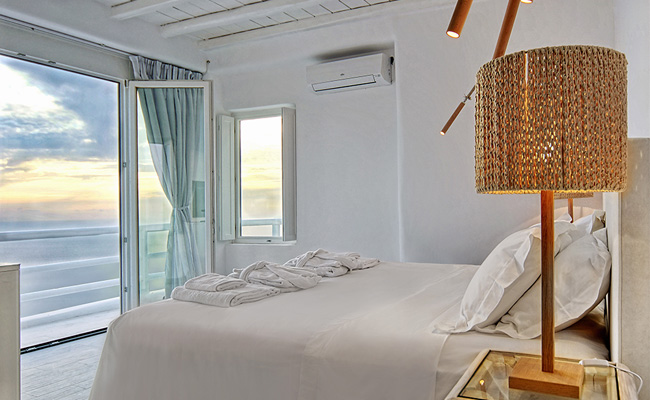 1st Floor
5 en-suite bedrooms
5 bathrooms
Sun lounges and sun beds
View 1st Floor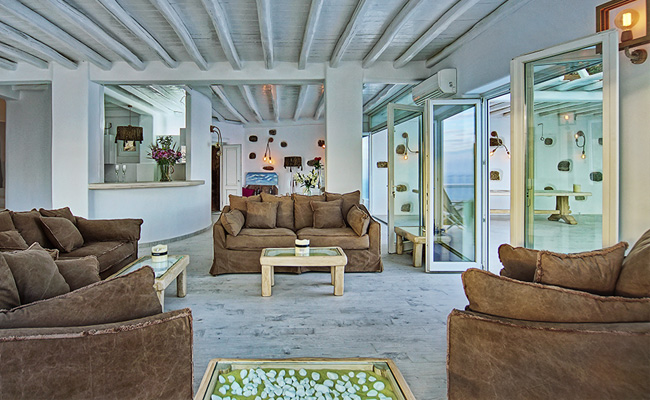 2nd Floor
Pool area (90m2)
Living Room
Pool Bar
Private bar
Private deck of 200m2
2 master bedrooms
2 bathrooms
A fully-equipped kitchen
Living room
Parking area
View 2nd Floor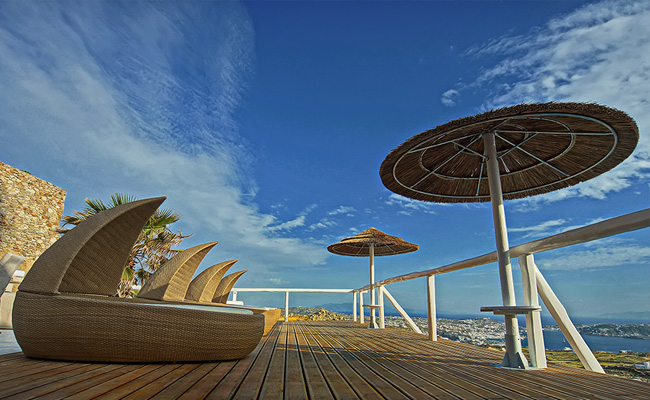 3rd & 4th Floor
2 Master rooms with independent entrances
2 bathrooms
BBQ and Spa area
Private bar
Seating area
A wooden deck with sunbeds and salons with music systems.
View 3rd Floor