14 March 2023
Mykonos Areas | Agios Ioannis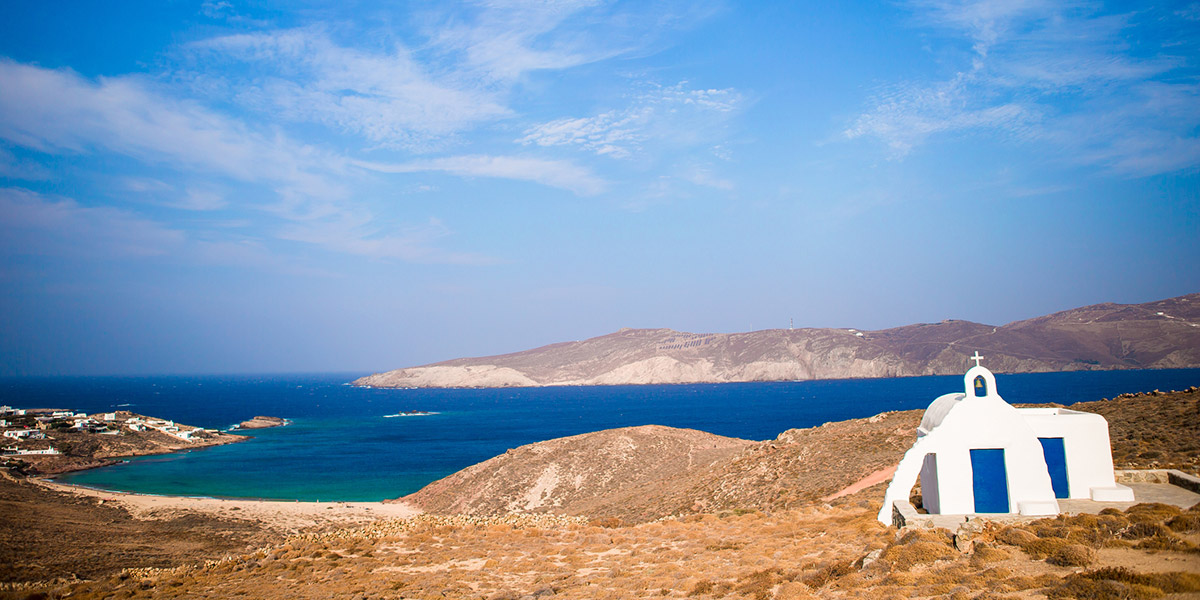 Agios Ioannis is a small tourist village in the southwest of the island, just within 2.5 km from Ornos. It is built in an amphitheatrical fashion and is located opposite Delos, combining natural beauty with excellent tourist infrastructure. Crimson and violet flowers hang from the stairs and balconies of the white houses, while waves crash gently on silver bays - a picture straight from a painting.
Location
The wonderful sandy beach of Agios Ioannis with its crystal clear waters takes its name from the church located nearby. Ideal for families with children, the beach is mainly recommended for those who want peace and relaxation. Of course, you'll also find a plethora of different restaurants, tavernas with delicious food (try the Mykonian version at spetsofai) and plenty of opportunities for water sports, from diving to surfing in the turquoise waters.
What to visit
Agios Ioannis is close to the other villages of the island, giving you the opportunity to visit and admire their classical architecture. Fun fact: Scenes from the movie "Shirley Valentine" of 1989 were filmed in Agios Ioannis!
It is also worth visiting the feast of Agios Ioannis, at the end of September, which is famous for its excellent food: Enjoy the juice of the meat (which is not common in other islands) and try the traditional onion pie. To sweeten your palate, confections with slivered almonds are an ideal choice. When it gets dark, dance with the locals and feel like a true Mykonian! Afterwards, take a stroll through the nearby flea market and buy whatever strikes your fancy
Where to stay
An array of deluxe hotels and villas with spacious suites await you in Agios Ioannis, ready to accommodate your every need and fulfill your deepest desires. One such resort is Villa St. John's Retreat, a 7-bedroom vernacularly designed villa with a private pool and fireplace, that commands a breathtaking panoramic view over the Rhenia and Delos islands.
Where to eat
Vasilikos Bar Restaurant in Agios Ioannis is a surefire way to enjoy traditional Mediterranean cuisine with an exotic and inspiring twist: homemade specialties marinated in unique sauces and spices blend with the quality spirits and wines for a perfect day in paradise. Pili Beach Restaurant offers a magnificent view and has you dining right upon the golden sands, while Pyli Restaurant dabbles in confections and specializes in chocolate related sweets. Finally, for something classic yet truehearted and delicious, try Beefbar Mykonos, where you can sample prime flame grilled cuts, Kobe gyros and a selection of greens and seafood, from ceviche rosado with yuzu and summer truffle to king crab and quinoa.
Where to have fun
Friendly staff, attentive service and a view to die for: Sky Bar Mykonos offers a wide variety of signature cocktails for you to choose from, not neglecting the finger-licking good appetizers. On par with Sky Bar, Lalala Mykonos is a cafe bar that has captured the island's imagination with its unique personality and vibes, serving a rich menu of brunch items - try pancakes stuffed with cottage cheese and dipped in homemade strawberry jam.