15 April 2023
Mykonos Areas | Ano Diakoftis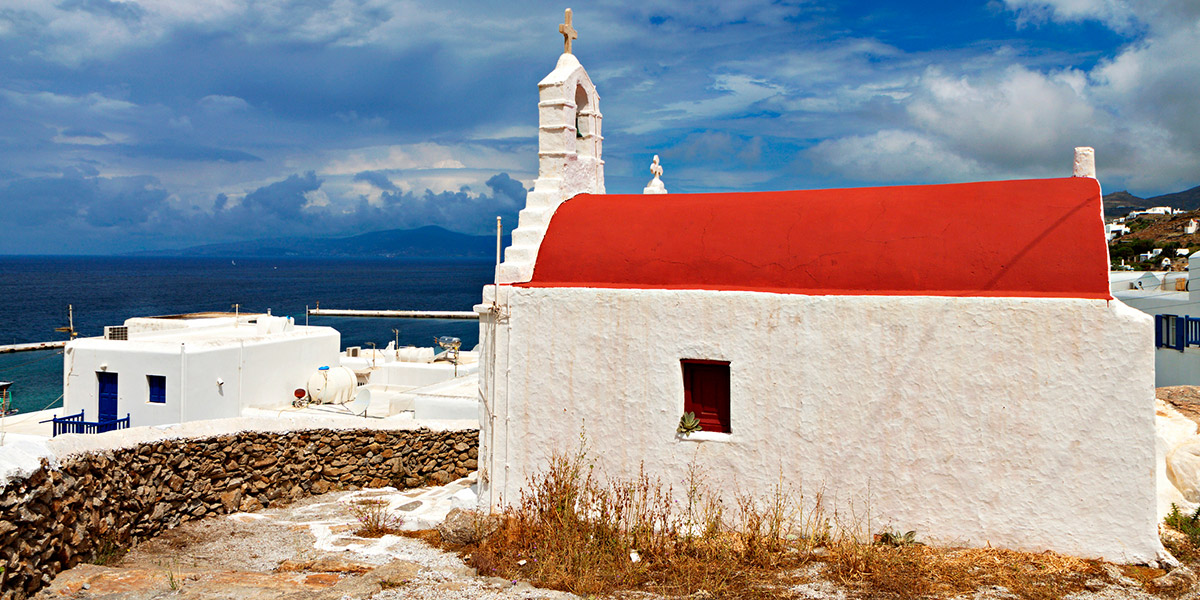 Agios Ioannis Diakoftis is a rustic little village in Mykonos, belonging administratively to the municipal community of Mykonos. It is a coastal settlement in the southwest of Mykonos, located opposite Delos, on the northern edge of the feronymous bay and at the ends of the "Diakoftis" hill (136 m.) which cuts off and demarcates the area from the rest of the island, at an average altitude of 10. White washed rooftops gleaming in the rose afterlight of a drowned sunset, birds weaving their spring melodies alongside the crystal clear sound of children laughing, people lounging on comfy sunbeds and the sun sheen glimmering within your cocktail glass - these are but few of the mental images that Ano Diakoftis will "engrave" within your memories forever.
Location
Approximately 4.5 km away from Mykonos Town, Ano Diakoftis enjoys a most privileged position in Mykonos, as bars, restaurants, clubs, beaches and points of interest are all within close proximity. Visit the church of Agios Ioannis, 500 m. northwest of the settlement, to enjoy a serene and tranquil orhodox setting, tour the neighborhood's sandy beaches of "Kappari" and "Glyfadi", north and south of the settlement, respectively. Take a hike to the cape of "Alogomandra" ("Aleomantra"), the extreme southwestern tip of Mykonos opposite the islets of Prasonisia (Krommydi, Praso and Sfontili), and bathe your body within the azure clear waters of the Aegean.
If your visit extends to Autumn, don't miss out on the local festival of St. John the Evangelist, on September 26, during which locals and visitors drink meat broth and dance until the sun rises.
Where to stay
Paraded atop the encircling hills, you will encounter an assortment of luxury resorts fit for your tastes and standards. Villa Alessandra is a 6-bedroom villa with a private pool, overlooking the beautiful view of Little Venice in Mykonos. It spans across a plot of about 4,5 acres and is situated high above the sea level, occupying a total area of 430m2 on two levels. It consists of an open space living room, dining room, a fully equipped kitchen, 3 master bedrooms (with twin and double beds, as well as en-suite bathrooms), 1 WC for guests, 3 exterior studios (with en-suite bathrooms) and 1 studio for service staff.
Where to eat
A proper feast of the senses awaits you at the plethora of restaurants and food venues of Ano Diakoftis. Sample the smoked salmon and the strawberry cheesecake at Vasilikos Bar - Restaurant, a prominent establishment that resides in a marvelous location. The sweet aroma of chicken meatballs and grilled souvlaki will "penetrate" your nostrils at Amades Mykonos, where fresh ingredients meet experienced chefs for a culinary extravagance. Finally, for fish and seafood cooked to perfection, have a sit at Hippie Fish Mykonos.
Where to have fun
A classic meeting point amongst friends and couples in Ano Diakoftis, Cosi Bar Mykonos is stocked with authentic labels and rainbow tinged cocktails. For mainstream music and hidden acoustic gems, sway by Tyco Mykonos Cocktail Bar and find out whether the greek nightlife really ends (spoiler: it does not).