2 December 2022
Mykonos Areas | Platis Gialos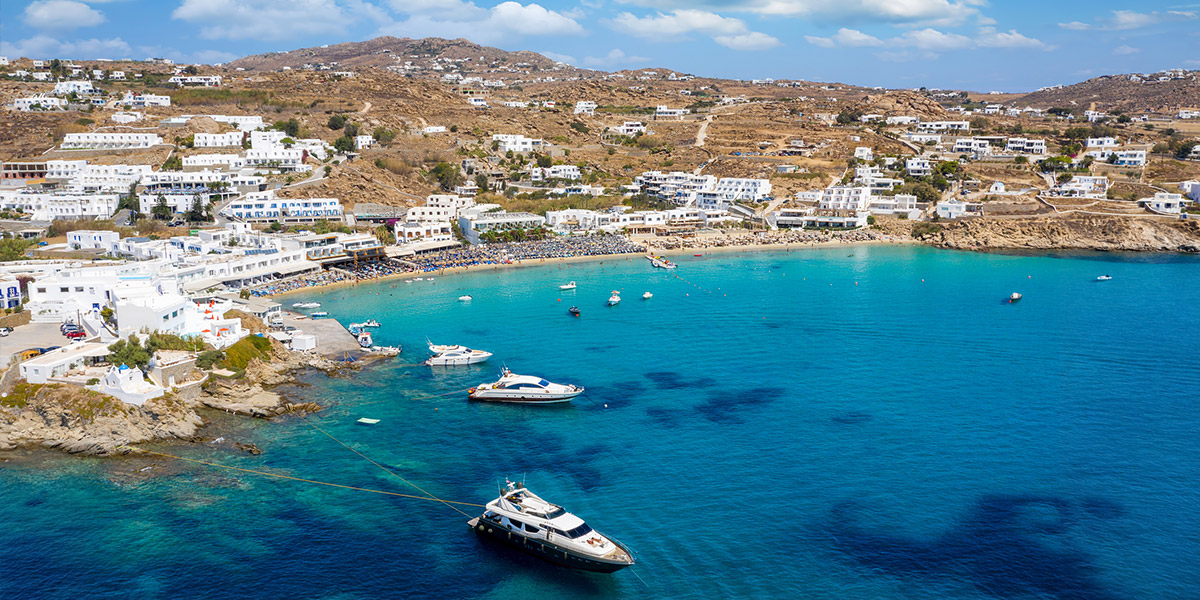 Platis Gialos is a bustling village and resort around the beach that bears the same name, a stretch of sand in a sheltered bay with seaside bars, taverns and seafood restaurants. Summer activities include sailing, windsurfing and parasailing in the Aegean Sea, while boat taxis head to more secluded beaches along the southern coast. Winding trails lead inland and climb to rocky lookouts and quiet spots with sunset views.
Location
It is located on the south side of the island, at a distance of only 4.5 km from the town of Mykonos. The beach of Platy Gialos (it is the largest beach of the island), with its endless golden sand and many facilities, attracts lovers of water sports from every corner of the earth. This idyllic beach is also great for swimming, sunbathing, boating, fishing, and more. Photography is also a common activity at Platy Gialos beach and the surrounding islands of Mykonos, due to the islands' natural beauty. You can reach famous beaches such as Super Paradise by car or boat from here, while towers from the Hellenistic or Roman times are preserved not far from the golden sandbars, as well as an underground reservoir built with granite stones. Here you can also see the ruins of three towers from the Hellenistic era at Leto, a sight to behold.
Where to stay
Wherever your gaze rests in Platis Gialos, a stark-white manor-like villa shall appear, resplendent with infinity pools and lush gardens, cozy sunbeds and private parking spot. One such magnificent resort is Villa Mary., a 7 double en-suite bedroom villa, residing within a two minute walk from Platis Gialos and within walking distance of Scorpios, Nammos, Kalua, Santanna, Soho House Rocs and Branco. From a private jacuzzi to access to secret, veiled beach, Vill Mary offers everything you could dream of a high profile accomodation.
Where to eat
You cannot go wrong with "Avli tou Thodori" (Theodore's Garden), a by the sea local restaurant that offers scrumptious Mediterranean cuisine at affordable prices. Regarding seafood and fish, there is but one "king" in Platis Gialos, and his name is "Phos" (Light), a food venue bathed by natural sunlight, whose interior is fashioned after a marine yacht's deck. Tastes, aromas, sounds and textures intermingle in a singular experience, an explosion of the senses. Finally, visit Thea Restaurant for a selection of fresh fish-related dishes and a serene environment that calls back to the traditional greek "tavernes".
Where to have fun
Most bars and clubs are centered around the mykonian mainland, however, there is a plethora of restaurants and cafes in Platis Gialos that double as bars at evenings and nights. One such establishment is the luxury Blue Myth Restaurant, which, apart from high quality dishes at noon, offers excellent spirits and creative signature cocktails at dusk. Another such venue is Cafe Delicious, which serves invigorating caffeine-based beverages in the morning and bombastic cocktails at night, offering the best of both worlds inside a cozy yet artistically delicate environment.