3 April 2023
Mykonos Areas | Psarou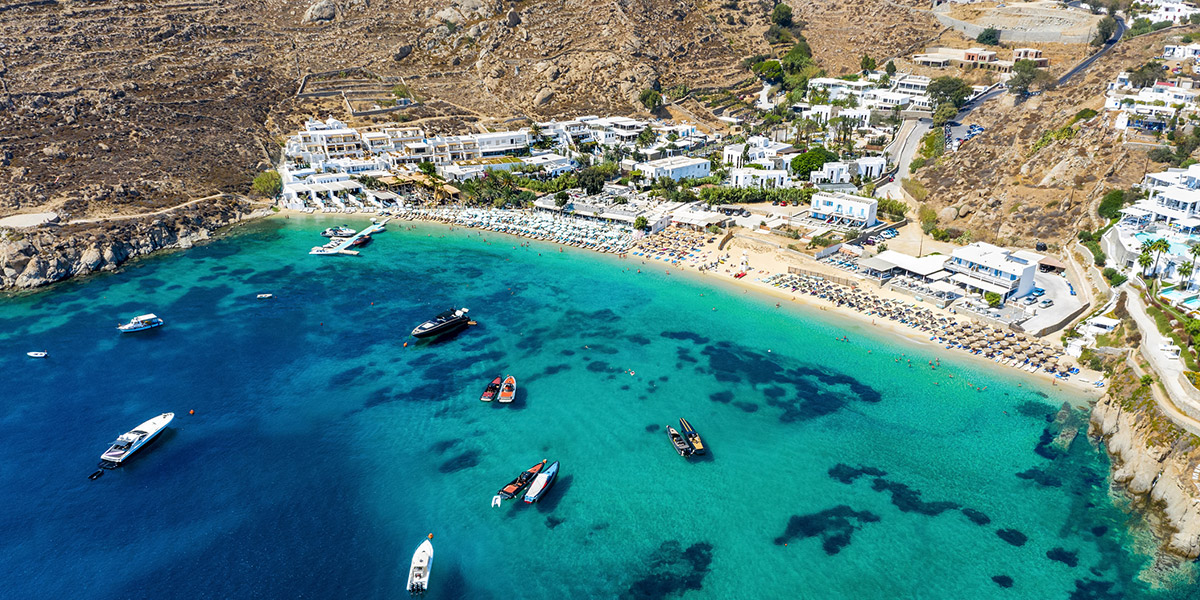 Psarou is a lush green neighborhood within 5 km from the town of Mykonos. It is one of the most popular and famous beaches of the island, with its pure and clean white sand line and crystal clear waters (it is always calm, as the beach is enclosed by the encircling mountains), making it an ideal hidden sanctuary for sunbathing and relaxing, but also for sea sports.
Location
Do you want to return home with... a degree? There is a diving school in Psarou, where you can start diving and get your certification from experienced, tested divers. The beach offers plenty of space for boats due its grand dock, while jet skiing, fishing and surfing are also some of the activities preferred by visitors to Psarou.
You can find many hotels that offer excellent services and there is also an array of deluxe restaurants and bars by the sea. This is why Psarou is one of the most cosmopolitan beaches of the island, as it shines in every aspect of a tourist attraction worth its salt. It attracts many movie stars, world-renowned personalities from fashion and stardom in general, as well as well-known politicians.
Here, you can get an ample dose of luxurious off time and a tan that you'll remember for a lifetime! Take a walk along the beach of Psaros and the neighboring area of Platis Gialos, browse the bazaars, adorable cafes, bookstores, shops and taverns, and rent motorcycles or bicycles to tour the neighborhood in a more eco-friendly way.
Where to stay
Psarou is filled with deluxe, spacious resorts. Villa Ammonite is a 4-bedroom villa with a private pool that is within walking distance of the famous Nammos restaurant. Villa Azurite is a 3-bedroom villa built in an amphitheatrical position overlooking the famous Psarou Bay and occupies a total area of approximately 200m2 between two levels. Villa Agapi ("love" in Greek) feels like a 5-star luxury boutique hotel, featuring a 4-bedroom en-suite luxury interior and a 100m2 outdoor area with a private pool, garden and a massive terrace.
Where to eat
A host of top-end fooderies and restaurants await your orders in Psarou. Visit La Maison de Katrin Restaurant for a selection of culinary surprises: scrumptious Chicken filet with carrot puree, delicious tarama and fresh salads are but a taste of what you will find within the creative menu. For something more "on the fly", try your hand at Be CooL Cavo Psarou, where street food meets high quality cuisine. If, however, your stomach craves for something more akin to a homely recipe, then try the generous portions of Andreas & Maria restaurant.
Where to have fun
Enjoy your colorful cocktail at NAMMOS Mykonos, a Spectacular complex with luxury shops, a seafood restaurant and a stylish beach bar with sun loungers. For a great variety of labels and an ever expanding stock of mixology cocktails, try Delos Lounges & Bar, which resides within a premium location. Zen and tranquil vibes await to envelop you at Pasaji Mykonos, where sea meets sand and mainstream hits meet worldwide famous DJs.