16 April 2019
Bachelor villas in Mykonos
The King of Villas is a luxury villa rental agency operating only with luxurious high-end villas which offer unique experiences. Greece, especially Mykonos, is a well known destination for Bachelor holidays. For this reason "The King of Villas" offers luxury villas for rent in Mykonos which can promise you an unforgettable bachelor/bachelorette party.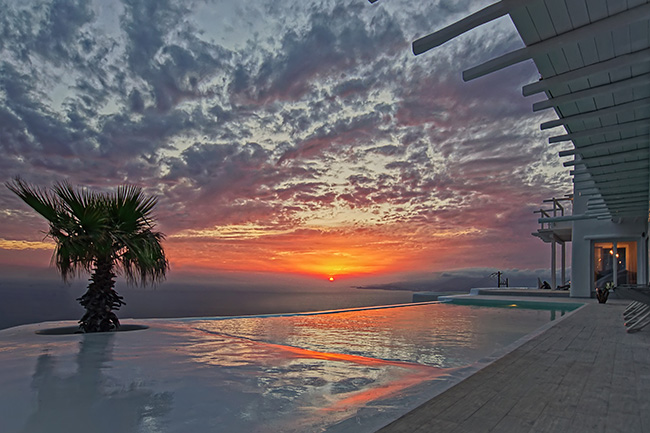 Villa Nafsika
One choice for your bachelor/bachelorette would be Villa Nafsika. This Villa is approximately 350m2 of internal places and 450m2 of outdoor areas (decks, verandas, parking areas) and has a pool of 80m2.
This amazing Villa has 3 different stages, 8 rooms and a private pool. It is also decorated with natural unique items from around the world with a concept that offers tranquility and relaxation to the ones visiting the villa. Another characteristic in this Villa is the fact that all lights have dimers – and may change colors- offering the tense and the mood that the guest wishes by that specific moment. Facilities, like a wooden bar in the pool area, offer the guests the ability of sharing amazing moments just in front of the big blue, enjoying parties, gatherings and unforgettable wedding experiences.
That is the exact place to bring your friends for amazing large gatherings or even a bachelor party for a daily rate of 1500 euros.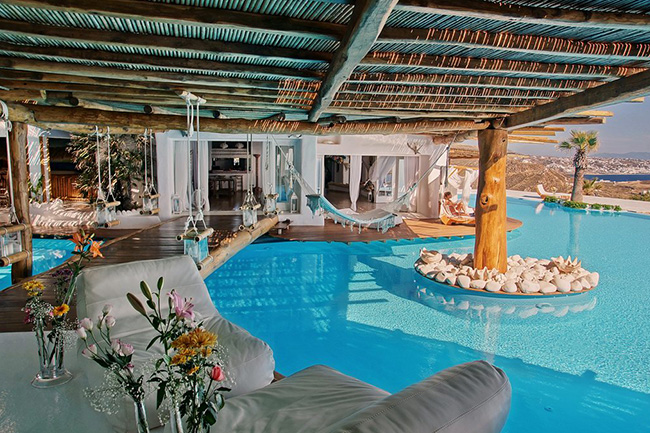 Villa Cleopatra
Another choice is Villa Cleopatra which was voted as the Best villa in the Mediterranean, due to its state-of-the-art amenities and unique facilities.
Villa Cleopatra covers a majestic area of 1500m2 of absolute indulgence. This dreamy villa lures guests to surrender to the temptations of high-end luxury and immerse in a private paradise of sensual pleasures. Totally isolated, this 4 level villa features 11 exquisitely appointed bedrooms for prestigious guests, 2 rooms for the staff, 8 cozy bars, 6 private dining areas, 12 cocooning areas with palm trees offering miraculous vistas to the Aegean Sea, a pool of 550m2, swim up bars and private boats waiting to sail you across the azure sea with a glass of champagne, while it has the largest pool in Mykonos island.
Totally isolated-in order for the guests to enjoy their privacy, this amazing Villa donates the ultimate infinitive breathtaking view of the Aegean from each and every corner or suite. This is a unique chance to have the best bachelor holidays of your life!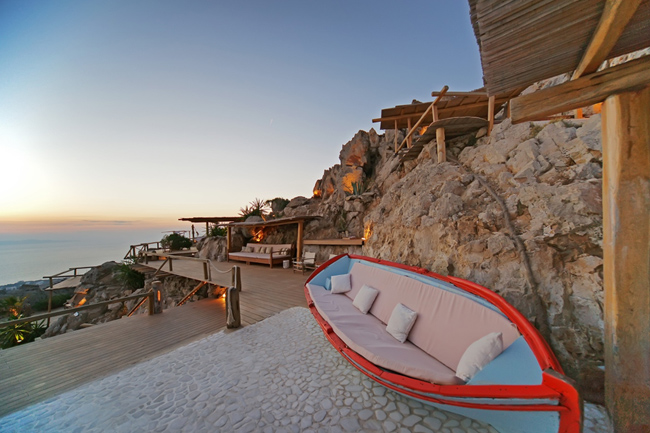 Villa Victoria
Another luxury villa for bachelor holidays is Villa Victoria, which offers total privacy and luxury.
It shares facilities like tennis court, gym, and helipad just next to the villa and occupies a well-trained multi-language staff for all needs. The estate is built to offer the most panoramic breathtaking view, facing the sunset and sharing an 18Oo view of Mykonos Island during day and night. Including 11 bedrooms, 12 bathrooms, 2 pools, 2 kitchens, private jacuzzi and other exclusive facilities, this villa of 1000m2 is made to offer the ultimate luxury, comfort ability and relaxation to all guests visiting Mykonos island.
This is an extraordinary villa ideal for big gatherings, weddings, bachelor parties, events and unforgettable holiday experiences, for 2900 euros per day.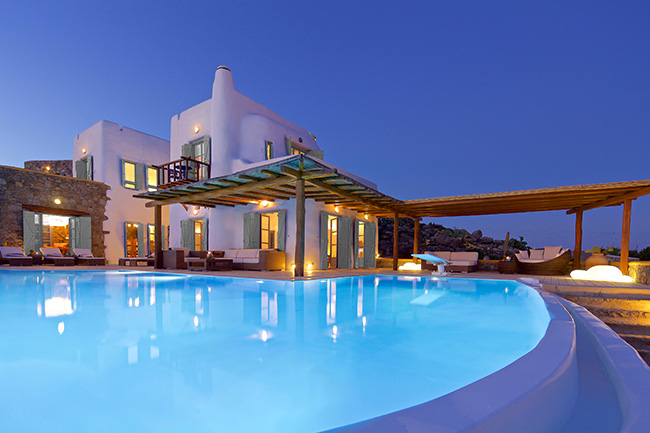 Villa Margaret
Finally, Villa Margaret, located in Tourlos area near Mykonos town, can gather 21 persons. The villa is composed of two magnificent levels. The ground level has 6 guest rooms, each with double bed, en-suite bathrooms, ceiling fan, separate entrances and incredible sea view. Moreover, one of the guest rooms has an extra room with en-suite bathroom, suitable for a large group or a family.
Villas for rent in Mykonos may be the ideal place for your bachelor/bachelorette holidays. On the one hand you have your own private luxurious space where you can enjoy your dream-holidays and on the other hand you can experience the unique atmosphere of the wild night life of Mykonos combined with unique sun-kissed beaches. As young bachelors you have a unique chance to have the time of your life in Mykonos!