The Villa
The luxurious newly constructed Villa Victoria dominates on the top of a hill in the area of Fanari, enjoying the panoramic view produced by the combination of Mykonos Town, the ancient island of Delos and across to the islands of the Cyclades, Syros – Paros – Naxos – Tinos. The view is spectacular in the evening hours when the sunset creates unique hues on the horizon, as well as at night when thousands of tiny lights twinkle in Mykonos Town, creating a romantic atmosphere.
Villa Victoria offers total privacy as the guests can also land in the helipad located just next to the villa. It also shares facilities like tennis court, gym, and helipad and occupies a well-trained multi-language staff for all needs.
Read More
Read Less
The state is built to offer the most panoramic breathtaking view, facing the sunset and sharing an 18Oo view of Mykonos Island during day and night. Including 11 bedrooms, 12 bathrooms, 2 pools, 2 kitchens, private jacuzzi and other exclusive facilities, this villa of 1000m2 is made to offer the ultimate luxury, comfort ability and relaxation to all guests visiting Mykonos island. The sumptuous infinity pool stands out impressively in the spacious external area of villa Victoria surrounded by palm-trees, hammocks, and outdoor seating furniture. A few meters away is an impressively large, solid wood dining table under a pergola, which provides shade, as well as a large four-poster bed which can be curtained off for private moments.
On the ground floor of villa Victoria is a comfortable living room along with a stately dining table and a fully equipped kitchen, both enjoying unlimited views and direct access to the grounds. The villa has eleven rooms and beautifully decorated master bedrooms, nine on the downstairs level and two on the first floor, all with infinite views.
An extraordinary villa ideal for big gatherings, weddings, events and unforgettable holiday experiences.
Have you decided on this villa?
Check availability online and proceed to a fast and secure booking!
Sleeping Arrangements
Bedroom 1
King-size bed
En-suite bathroom
2 guests
Bedroom 2
King-size bed
En-suite bathroom
2 guests
Bedroom 3
King-size bed
En-suite bathroom
2 guests
Bedroom 4
King-size bed
En-suite bathroom
2 guests
Bedroom 5
King-size bed
2 guests
Bedroom 6
King-size bed
En-suite bathroom
2 guests
Bedroom 7
3 single beds
3 guests
Bedroom 8
King-size bed
2 guests
Bedroom 9
King-size bed
En-suite bathroom
2 guests
Bedroom 10
King-size bed
En-suite bathroom
2 guests
Bedroom 11
King-size bed
En-suite bathroom
2 guests
Villa Layout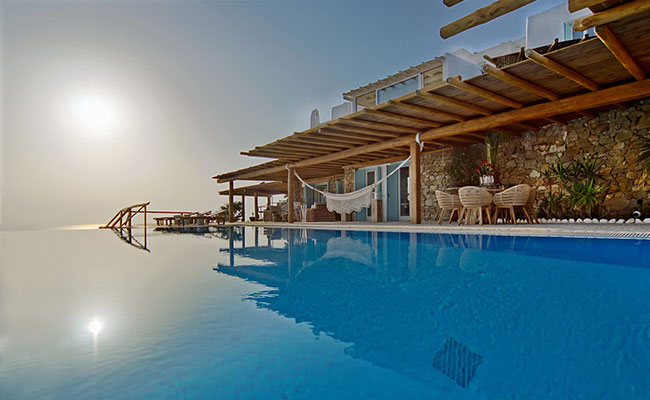 Section 1 (Pool Level)
Private infinity pool (90m2)
Outdoor dining and lounge areas
BBQ area
Living room
Fully equipped kitchen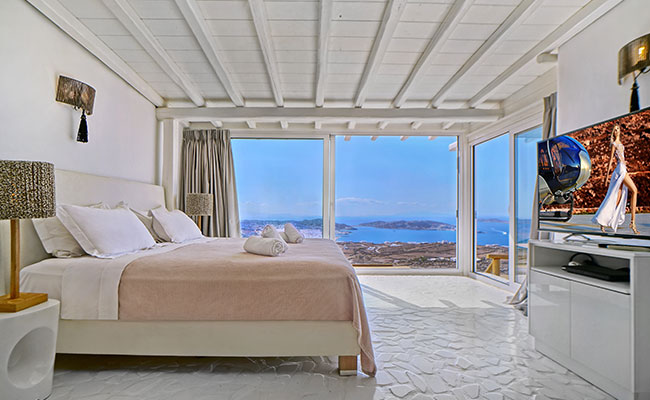 Section 1 (Upper Level)
2 master bedrooms with en-suite bathrooms (Bedrooms 1-2)
Private balcony
Section 1 (Lower Level)
2 master bedrooms with en-suite bathrooms (Bedrooms 6&9)
2 master bedrooms and 1 bedroom with 3 single beds, sharing 2 bathrooms (Bedrooms 5,7,8)
Outdoor dining and lounge area
Jacuzzi
Independent entrance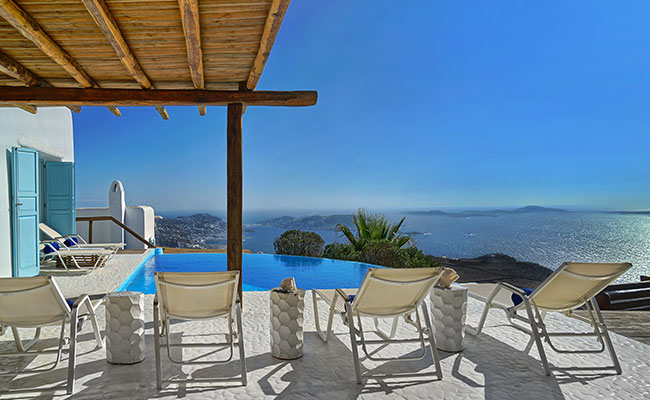 Section 2 (Pool Level)
Private infinity pool (48m2)
Outdoor dining area
Veranda with unique sea and sunset view
Fully equipped kitchen
Living room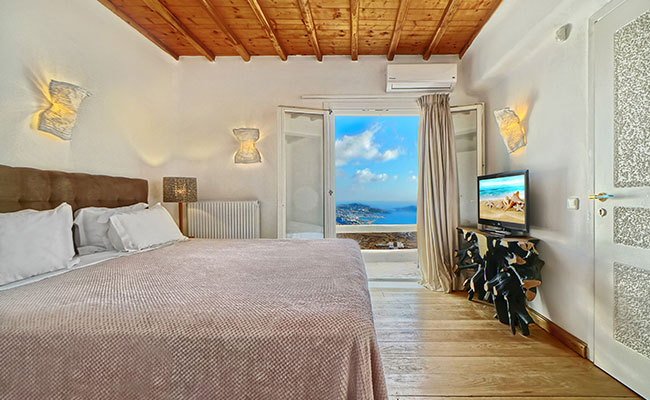 Section 2 (Upper Level)
2 master bedrooms with en-suite bathrooms (Bedrooms 3-4)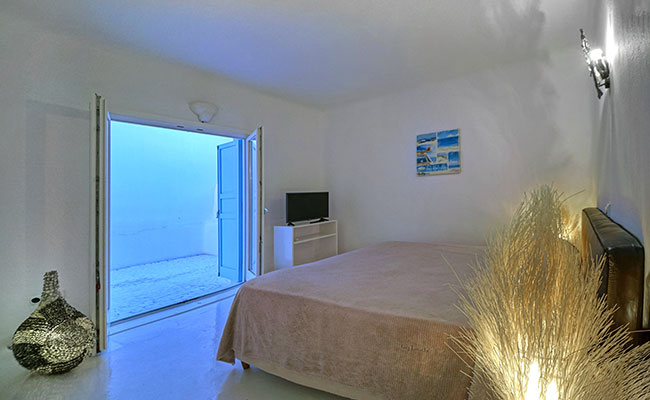 Section 2 (Lower Level)
2 master bedrooms with en-suite bathrooms (Bedrooms 10-11)
Garden
Amenities
2 private infinity pools
Private jacuzzi
Outdoor dining and lounge areas
Sunbeds and hammocks
2 fully equipped kitchens
BBQ
Private veranda facing the sunset
Bar
A/C
Wi-Fi
Satellite TV
Safety boxes
Alarm system
Pool towels
Bath toiletries
Hairdryer
Baby cot
Baby highchair
Private parking space
Shared facilities
Gym
Tennis court
Helipad
Complimentary Services
Luxurious transfers upon arrival and departure
Daily maid service
Change of linen and towels twice per week
Pool maintenance
Tailor-made concierge services
Security guard during night hours
Services Upon Request (Extra Cost)
Private chauffeur services – Disposal or on call
Car rentals
Event planning
Private chef
Spa and massage services
Yacht rentals and excursions
Helicopter Tours
Distances from hot spots:
| | | |
| --- | --- | --- |
| Mykonos Town (Chora): | 6.8 km | 14 min. drive |
| Mykonos New Port: | 7.1 km | 14 min. drive |
| Mykonos Airport: | 7.9 km | 16 min. drive |
| Agios Stefanos Beach: | 3.9 km | 10 min. drive |
| Panormos Beach (Principote): | 8.4 km | 17 min. drive |
| Ornos Beach: | 8.7 km | 17 min. drive |
| Psarou Beach (Nammos): | 9.5 km | 19 min. drive |
| Ftelia Beach (Alemagou): | 10.5 km | 21 min. drive |
| Scorpios: | 10.9 km | 22 min. drive |