The Villa
A magnificent 10-bedroom luxury resort in pastoral Tourlos of Mykonos: this is Villa Rosa, an expansive Cycladic chateau that can house up to 18+2 guests, offering a mind-boggling view over the cosmopolitan island and the enchanting azure of the Aegean. Spanning over three floors, Villa Rosa features 1 V.I.P. double bedroom with fireplace and en-suite dressing area, 1 Master bedroom with en-suite dressing area, 2 separate guest quarters with bathrooms, 1 single bedroom with independent entrance, and 5 double bedrooms. All rooms come with en-suite bathrooms and full access to wifi and A/C, of course. With an illustrious dining area, resplendent with woodwork pieces of furniture and alfresco decor, a fully equipped gym, a professionally set kitchen with all modern appliances already installed and ready, the interior of Villa Rosa is akin to an old ancient Greek palace, albeit renovated to contemporary standards and "baked to perfection". The exhilarating atmosphere of spaciousness that the Mykonian villa exudes is a product of its many windows, portals that allow the famous Greek sun to tickle the interior with its rays. Outside, a hefty infinity heated pool resides within a most comfortable lounging area, complete with built-in sofas and movable sunbeds. Created with accommodation in mind, Villa Rosa exemplifies the idyllic vacation destination for those who crave something simple yet elegant, a resort that does not try to achieve everything at once but, rather, focuses on one thing but crafts it to perfection.
Read More
Feel the "vibes" of tranquil Tourlos
Tourlos is a small seaside village, where stark-white houses with freshly painted windows and fragrant flowers come together to form a magnificent landscape. Located on the north side of the island, just 2.5 km from Mykonos Town, it offers plenty of options for entertainment, from picturesque local fish taverns to lavish bars and clubs. Loved by celebrities worldwide, Tourlos is a private slice of paradise, with Villa Rosa nestled deep within its cosmopolitan heart. So whether it is serene landscapes or crowded club dance floors, Tourlos of Mykonos has it all.
Abandon your worries in Villa Rosa
Decorative statues keep you company in your relaxing siestas, enhancing the zen and tranquil vibes of a resort that values luxury and freedom of space over complexity and overabundance of decor. Picture yourself scrolling your newsfeed with the Aegean before your feet, imagine yourself sipping a cup of joe while splashing inside the infinity pool, your thoughts finally resting for a moment. This is what Villa Rosa offers to those who enter her domain, a promise that every second of every hour within the chambers of its perimeter shall be dedicated to one thing only: relaxation.
Bedrooms & Bathrooms
1 V.I.P. double bedroom with en-suite bathroom, fireplace & en-ensuite dressing area
1 Master bedroom with en-suite bathroom & en-ensuite dressing area
2 Separated guest quarters with bathrooms
1 Single bedroom with en-suite bathroom and independent entrance
5 Double bedrooms with en-suite bathrooms
Villa Layout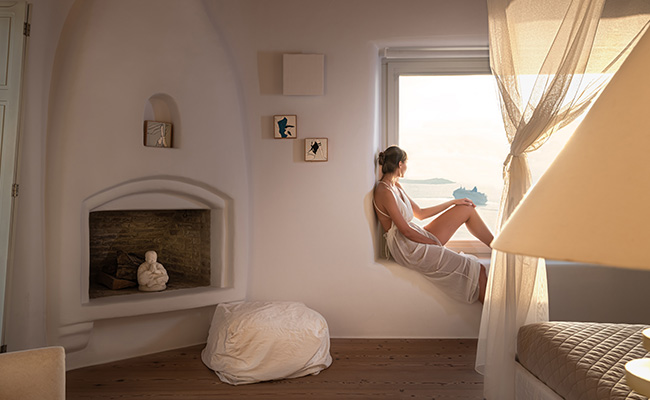 1st Floor
V.I.P. double bedroom with en-suite bathroom, fireplace & en-ensuite dressing area (shower cabin, toilet room, king size bed, TV, A/C, balcony, sea & sunset view)
Master bedroom with en-suite bathroom & en-ensuite dressing area (shower cabin, toilet room, king size bed, TV, A/C, balcony, sea & sunset view)
2 Separated guest quarters with bathrooms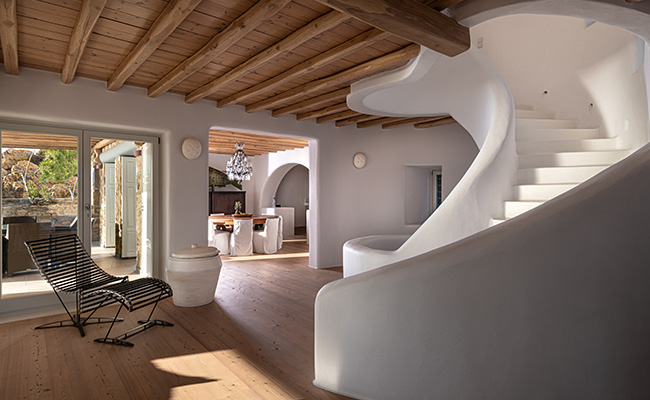 Ground Floor
Main living-room and a second one with fireplace
Dining area
Fully equipped professional kitchen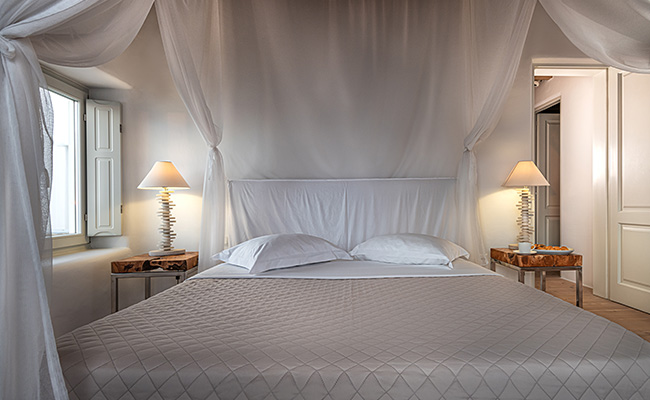 Lower Floor
Single bedroom with en-suite bathroom and independent entrance
5 Double bedrooms with en-suite bathrooms
Playroom with TV theater fully equipped with sound systems
Fully equipped gym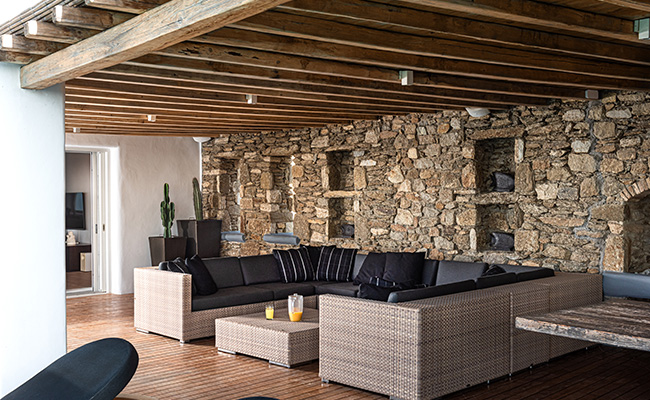 Outdoors
Infinity heated swimming pool (charge against)
Outdoor shower and pool bathroom
Dining & BBQ area
Shaded seating & lounge areas
Amenities
Internet Access (Wi-Fi)
Satellite TV - Netflix
Generator
Underfloor Heating
A/C in all rooms
Full Equipped Gym Room
Laundry Room with washer & dryer
Infinity heated swimming pool (charge against)
Outdoor shower and pool bathroom
Dining & BBQ area
Shaded seating & lounge areas
Linen Storage
Guest W.C.
Safety Deposit box to each Bedroom
Complimentary Services
Luxurious transfers upon arrival and departure
Meet and greet service, assistance with the check in / check out process
Concierge services
Services Upon Request (Extra Cost)
Private chauffeur services – Disposal or on call
Car rentals
Event planning
Private chef
Spa and massage services
Yacht rentals and excursions
Helicopter Tours
Villa Policy
Smoking: Not Allowed Indoor
Pets: Allowed only upon request
Events allowed only upon request
Minimum stay 4 nights
Distances to hot spots:
| | |
| --- | --- |
| Mykonos Town: | 1.9 km |
| Mykonos Airport: | 4.8 Km |
| Mykonos Port: | 700 m |
| Agios Stefanos Beach: | 900 m |
DAILY RATES: UPON REQUEST