The Villa
Villa Esmeralda is an exotic 10-bedroom resort nestled within scenic Agios Lazaros and suitable for up to 20 guests. This Cycladic chateau features all the superb characteristics you have come to expect of such a high-profile Greek resort: from the white-washed corridors to the extended infinity pool, and from the lavishly decorated interior design of a classic postmodern manner to the abundance of amenities you can enjoy, Villa Esmeralda embodies R&R in their truest sense. In detail, this luxury villa in Mykonos features 2 master bedrooms with king-size beds, 2 bedrooms with queen size beds, 5 bedrooms with king-size and queen size beds, and 1 bedroom with queen size bed - all rooms have en-suite bathrooms and enjoy a most captivating sea view. Namely, this master-crafted property enjoys one of the most magnificent views in Mykonos, over the famous beach of Psarou, which lies less than 3 kilometers from the town center. Overhanging at the very edge of the rocky shore, the exterior of Villa Esmeralda consists of spacious lounging areas and verdant terraces, a fully equipped kitchen BBQ complex, outdoor pergola-covered lounge, and dining areas for memorable gatherings. Design-wise, Villa Esmeralda prefers floral aesthetics and natural colors, with creamy white and beige taking precedence. Original works of art and wooden decorations encircle the soft pieces of furniture, adding a little more character to an already "feisty" resort.
Read More
Find inner peace in rustic Agios Lazaros
Let your gaze wander through white-washed labyrinthine alleys, clad in violet explosions of wisteria blossoms. Allow your mind to follow, into the atmosphere of a hazy summer afternoon, where seagulls sing their lullabies, children laugh under shaded pergolas, fishermen traverse the cold expanses of the Aegean, and people from all around the world come together to witness a true seasonal wonder: summertime Greece. Agios Lazaros exemplifies all that Mykonos stands for, and Villa Esmeralda commands a privileged position: 2.9 km lie between you and the illustrious Psarou beach, where bartenders serve aromatic mojitos with fancy umbrellas. A measly 4.7 km stand between you and the nucleus of the island, Mykonos Chora, where you will witness the true essence of a luxurious, cosmopolitan island.
Let Villa Esmeralda take away your troubles
Soothing Body and mind alike, a visit to Mykonos is sure to leave you with indelible memories, and a burning wants to return: your very first encounter with the feeling of "nostos", a Greek word translated to the "burning passion to return back home". For Villa Esmeralda shall become your second home, whether it is through her spacious infinity pool, her tranquil atmosphere, her lavishly decorated interior design, or her mirthful concierge service, one fact remains sure: you will return.
Bedrooms & Bathrooms
2 master bedrooms with king size beds and en-suite shower bathrooms and sea view
2 bedrooms with queen size bed, en-suite shower bathroom and sea view
5 bedrooms with king size and queen size beds, en-suite shower bathrooms and sew view
1 bedroom with queen size bed and en-suite shower bathroom
Villa Layout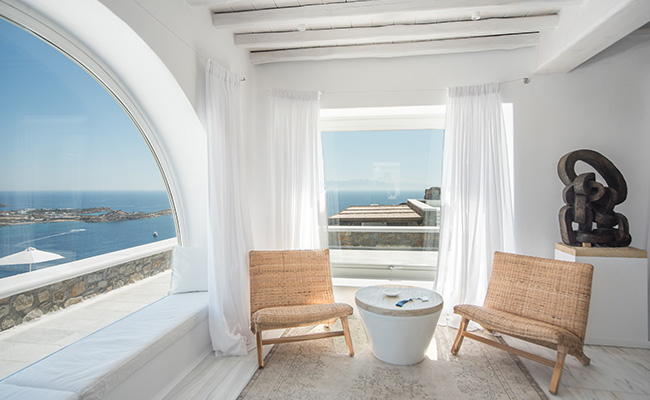 Upper Level
Two master bedrooms with king size beds, en-suite shower bathrooms, air conditioning, sea view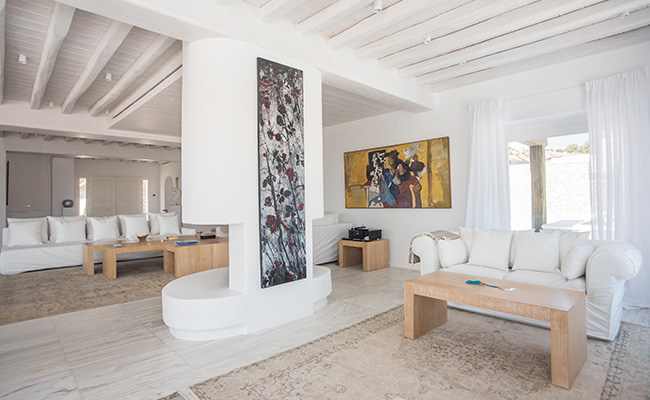 Reception Level
Living and dining areas with sea view
kitchen, air conditioning, guest WC
outdoor pergola-covered lounge and dining areas with sea view,
outside kitchen BBQ complex
One bedroom with queen size bed, en-suite shower bathroom, air conditioning,
independent entrance, private balcony, sea view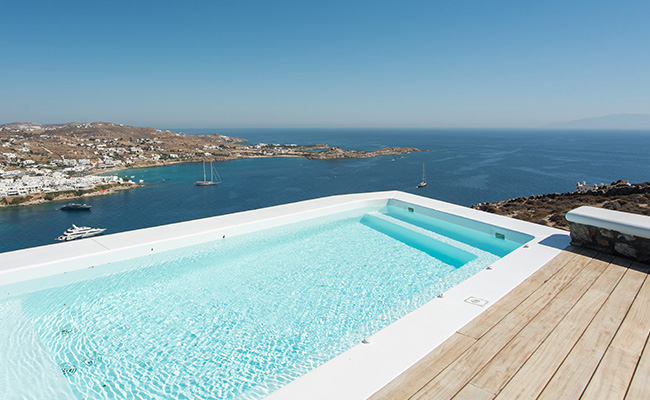 Pool Level
Five bedrooms with king size and queen size beds, en-suite shower bathrooms, air conditioning, access to private balconies, all with sea view.
One bedroom without view, with queen size bed, en-suite shower bathroom, air conditioning.
Pool bar, pool shower bathroom, alfresco shower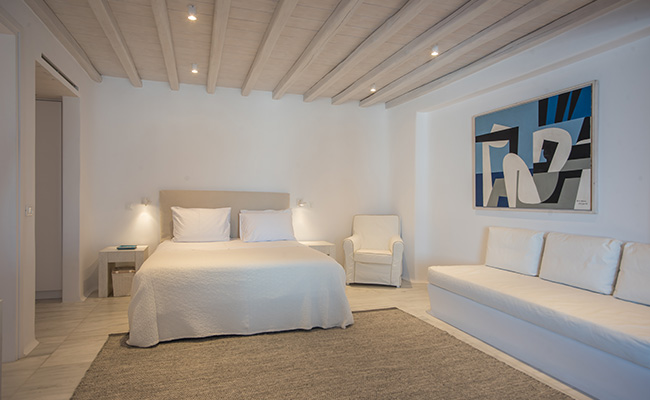 Lower Level
One bedroom with queen size bed, en-suite shower bathroom, air conditioning, independent entrance, sea view
Amenities
Indoor Features
Open plan living rooms with comfortable sofas and fireplace
Indoor dining room
Fully-equipped kitchen
Guest WC
Ten bedrooms with en-suite bathrooms
Flat screen TV and DVD player in the living room and in all bedrooms
Air conditioning throughout
Outdoor audio systems
WI-FI internet access
Safe-deposit boxes
Elevator
Storage room
Separate laundry room
Private parking area
Outdoor Features
Infinity swimming pool
Large heated jacuzzi
Pergola-covered lounges and dining areas
Outdoor fully operational pool bar
Outside kitchen BBQ complex
Pool shower bathroom
Alfresco shower
Sea view from all sides
Complimentary Services
Luxurious transfers upon arrival and departure
Daily maid service
Change of linen: 2 times per week (unless otherwise agreed)
Change of bathroom and pool towels: 3 times per week (unless otherwise agreed)
Services Upon Request (Extra Cost)
Private chauffeur services – Disposal or on call
Car rentals
Event planning
Private chef
Spa and massage services
Yacht rentals and excursions
Helicopter Tours
Villa Policy
Children are welcome
Indoors non-smoking
Pets allowed upon agreement
Social events permitted upon agreement
Check-in: Earliest at 1 pm (unless otherwise agreed)
Check-out: At 11.30 am (unless otherwise agreed)
Distances to hot spots:
| | |
| --- | --- |
| Closest beach (Psarou): | 2.9 km |
| Mykonos Town: | 4.7 Km |
| Mykonos New Port: | 7.5 km |
| Mykonos Airport: | 4.8 km |
| Ornos: | 3.7 km |
| Principote: | 9.7 km |
| Nammos: | 3 km |
| Scorpios: | 5.5 km |
| Ano Mera Village: | 10.7 km |
| Alemagou: | 10.9 km |
DAILY RATES FROM: UPON REQUEST