The Villa
Villa Aura is a deluxe 9-bedroom chateau in Pouli of Mykonos, able to accommodate up to 18 guests. In more detail, Villa Aura features: 1 master bedroom with king-size bed, 2 double bedrooms with private entrance and pool glass view, 5 Guest Houses with double bedrooms and king-size beds and private entrance and 1 Guesthouse with double bedroom, private entrance and pool glass view. Needless to say that all rooms come with en-suite bathrooms and access to A/C, while most of them enjoy a marvelous sea view and access to the verdant terrace. White Cycladic elegance, pistachio green shutters and unobstructed marvelous views of Delos and Rhenia, make this villa the ideal relaxing experience and a perfect fit for the island of Mykonos. The villa is located on a hilltop in the area of Pouli, offering its guests the opportunity to witness a unique sunset as it unfolds right before their eyes during the evening. The exterior, along with the dining, lounge and pool areas, provide guests with an overall feeling of calmness and serenity. Keeping a local touch in the interior design, all living areas are warm, with soft, light wooden floors and wooden pillars supporting the ceiling.
Read More
Greeting the blue Aegean from Pouli of Mykonos
On the southwest side of Mykonos, lies one of the most privileged areas of the island: Pouli (translated to "bird" from Greek, due to the abundance of avian creatures fluttering around). Calm, blissfully isolated, Pouli is wedged between the illustrious beaches of Ornos and Agios Ioannis, with Villa Aura offering quick access to two of Mykonos' most celebrated beach bars. Lush parks, cobbled waterfronts, idyllic oil-painting-esque sunsets and scrumptious delicacies - Pouli passes the test of ideal summertime destination with flying colors - whether it is popular clubs or local taverns, you will find what you seek here.


Villa Aura envelops you in unparalleled luxury
"Aura" = a distinctive atmosphere surrounding a given source, a subtle sensory stimulus: Villa Aura exemplifies this definition 100%, channeling an atmosphere of tranquility and serene relaxation. Sitting atop a sofa fashioned out of a fishing boat and gazing into the blue Aegean, watching your significant other enjoying the infinity pool from the living room, munching on fresh fruit while watching your favorite Netflix show - this is a standard day here in Villa Aura. Apart from the awe-inspiring Chinese porcelain-like patterns stitched upon the decorative furniture, the alfresco vibes of a lavishly built pergola and the seamlessly integrated natural elements scattered around, Villa Aura is also a model of architectural design and structural style. So if living inside a literal Cycladic chateau renovated specifically to accommodate your tastes sounds enticing, then this is the resort for you.
Bedrooms & Bathrooms
1 master bedroom with king-size bed, en-suite bathroom, A/C, terrace access and sea view
1 double bedroom with en-suite bathroom, A/C, terrace access and sea view
1 double bedroom with en-suite bathroom & private entrance, A/C and pool glass view
5 Guesthouses with double bedrooms and king-size beds, private entrance, en-suite bathrooms, A/C, terrace access and sea view
1 Guesthouse with double bedroom (double bed), private entrance, en-suite bathroom, A/C and pool glass view
Villa Layout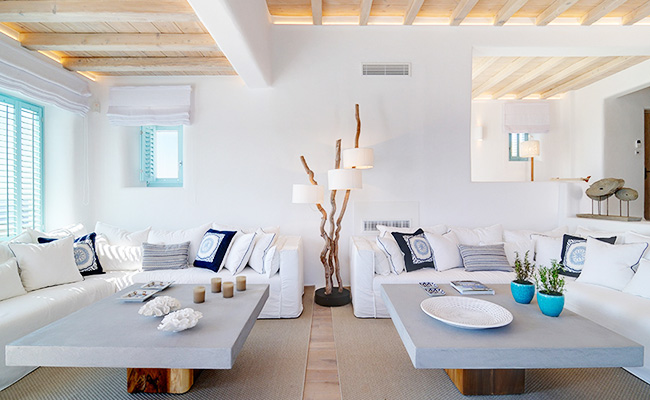 Pool Level
Entrance hall
Living room with sea & pool view
Dining area
Fully equipped kitchen
Outdoor dining area
Guest WC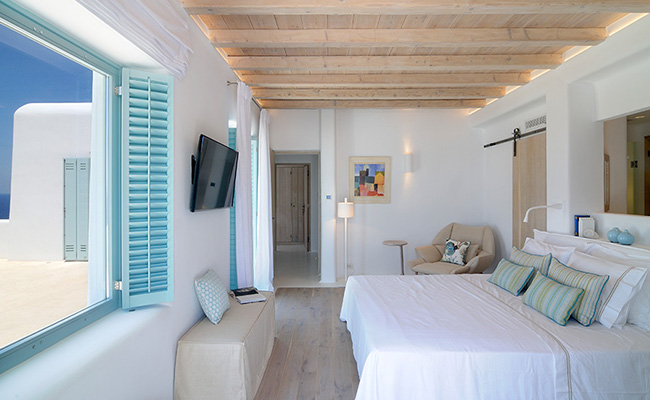 Upper Level
Master bedroom with en-suite bathroom
Double room with en-suite bathroom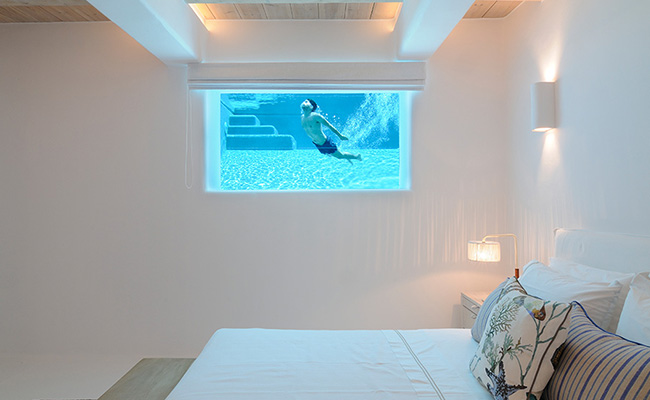 Lower Level
A double bedroom with en-suite bathroom and pool glass view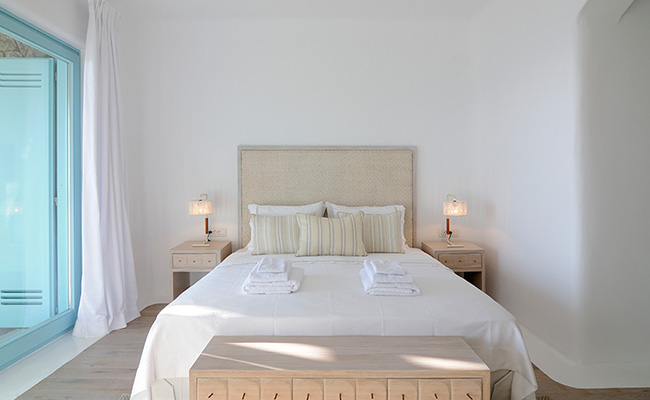 Guest House 1
Double room with private entrance and en-suite bathroom (shower & toilet room, king size bed, A/C, TV, safe box, terrace access, sea view)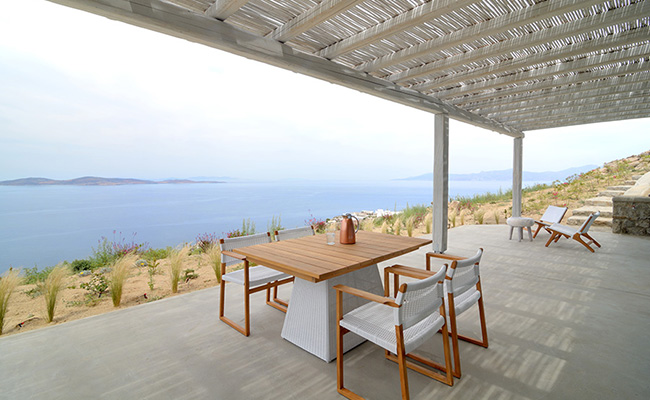 Guest House 2
Double room with private entrance and en-suite bathroom (shower & toilet room, double bed, A/C, TV, safe box, pool glass view)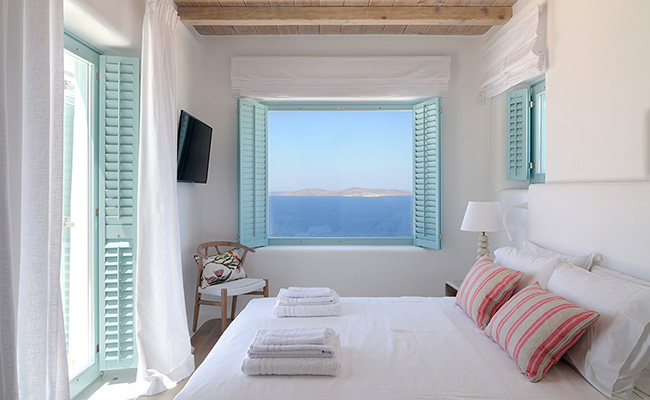 Guest House 3
Double room with private entrance and en-suite bathroom (shower & toilet room, king size bed, A/C, TV, safe box, terrace access, sea view)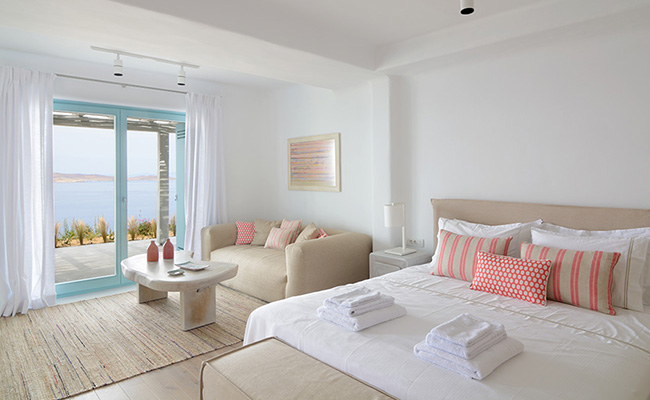 Guest House 4
Double room with private entrance and en-suite bathroom (shower & toilet room, king size bed, A/C, TV, safe box, terrace access, sea view)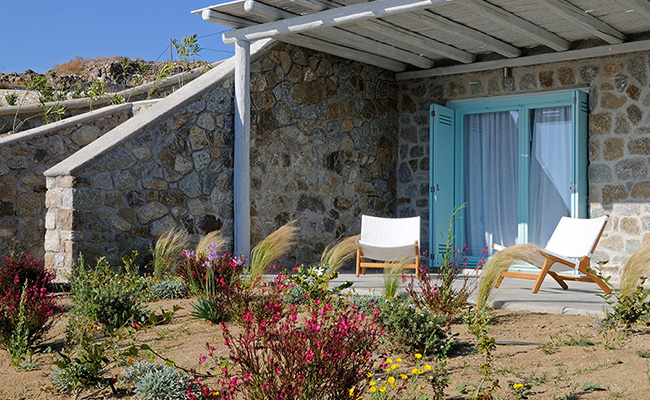 Guest House 5
Double room with private entrance and en-suite bathroom (shower & toilet room, king size bed, A/C, TV, safe box, terrace access, sea view)
Guest House 6
Double room with private entrance and en-suite bathroom (shower & toilet room, king size bed, A/C, TV, safe box, terrace access, sea view)
Amenities
Pool Facilities
Private Infinity Pool
Sunbeds
Seating & Lounge area
Pergola with outdoor dining area
BBQ
Pool glass view
Outdoor
Helipad
Outdoor dining area
Garden
BBQ
Balcony/Terrace
Seating areas
Entertainment
Sound System (indoor & outdoor)
Satellite/Cable TV
Internet Access (Wi-Fi)
General
Climate Control: A/C in all bedrooms and living room
Gated Property & Alarm
Safe boxes
Parking Space
Washing Machine
Fully equipped modern kitchen
Baby cots – Highchair - Baby bath upon request
Hair dryers
Complimentary Services
Luxurious transfers upon arrival and departure
Daily cleaning and housekeeping
Change of linen/towels twice per week
Change of pool towels twice per week
Property, garden and pool maintenance
Services Upon Request (Extra Cost)
Private chauffeur services – Disposal or on call
Car rentals
Event planning
Private chef
Spa and massage services
Yacht rentals and excursions
Helicopter Tours
Distances from hot spots:
| | |
| --- | --- |
| Mykonos Town: | 4.8 Km |
| Mykonos Airport: | 5.3 km |
| Mykonos Port: | 8 km |
| Closest Beach (Ornos): | 2.2 km |
| Agios Ioannis Beach: | 3.8 km |
| Nammos: | 4.7 km |
| Principote: | 9.8 km |
| Scorpios: | 8 km |
| Alemagou: | 10.8 km |
DAILY RATES FROM: UPON REQUEST