4 January 2023
Mykonos Areas | Aleomandra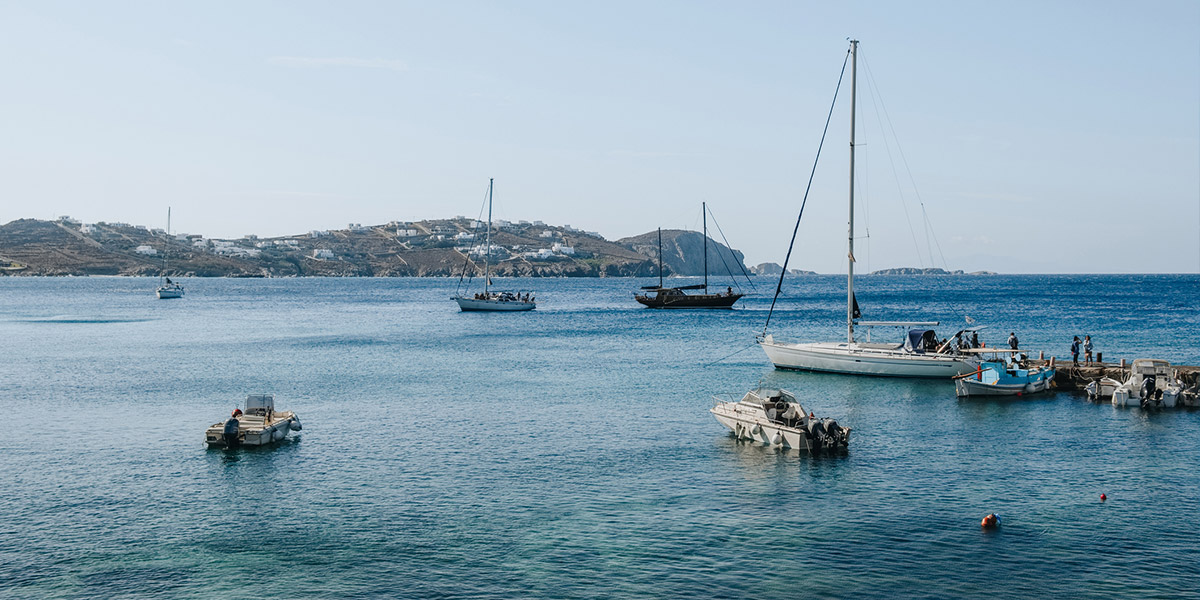 Aleomandra lies to the Southwest part of the island, the fabled "wild side", where gilded sandbars "court" verdant parks and gardens, vernacular houses capture sunset rays of pure light and both denizens and visitors party all night long.
Location
Aleomandra is nestled not even 6 km away from Mykonos Chora, the center of the island's bustling and vibrant life. Even better, the Mykonos Airport is less than 6 km away, although every second in breathtaking Aleomandra is worth cherishing. From the popular golden sands of Kapari beach down to the untamed beauty of Ornos beach, and from the solitary bliss of beach Zorba to the fairytale-like neighborhoods of the settlement, Aleomandra offers a complete package.
Here, apart from the cool opacity of the ocean and the eternal relaxation of sunbathing, you will encounter avid windsurfers and marine sport enthusiasts, as this part of the island is known for its windy "demeanor" and temperament. What's more, from here you can discern (ona clear day) the sibling islets of Krommydi, Prasso and Sfontili, a trio that exhibits uncharted wonders that can be explored by boat.
Where to stay
While there is a vast array of freshly renovated villas, hotels and rooms for you to enjoy your stay at beautiful Aleomandra, we strongly recommend the eloquent Villa Coral, a luxury that features 2 Master bedrooms, 1 Suite, 1 Master bedroom, and 1 Double bedroom - all of which have king-size beds and en suite bathrooms. From your very own infinity pool that gives off the feeling of floating in midair to every modern amenity imaginable, this is a high-end resort worthy of its location and reputation.
Where to eat
First built in the 1960s, but continuously renovated since then, the Hippie Fish stands proudly as one of oldest modern times restaurants of Mykonos and Cyclades Islands. It is yet another gem in the collection of Mykonos in the bay of Agios Ioannis, with fresh fish, salads and grilled vegetables, a variety of cheeses, a very good wine cellar, impeccable staff, with parking and a view of the whole Aegean - you simply cannot miss the sushi bar, the mixology bar and the private dining at the beach. If your taste buds are in dire need of something a bit more "umami", then try Lefteris Grill House, a staple for many years in the mykonian scene of street food. Fresh meat curated and prepared by professional staff and reasonable prices are only two of this establishment's strong points.
Where to have fun
Galleraki Bar is a classic meeting point for beer and cocktail lovers in Mykonos, boasting an eye-scratching sunset view over the azure waters and serving scrumptious appetizers that oftentimes compete with local restaurants because of their mouth-watering qualities. Conversely, for something extremely zen and easygoing, have a drink at Chill Out Lounge cafe bar at Aleomandra's heart, a renowned mixology paradise. Finally, further to the north, you will arrive at Bao's Cocktail Bar Mykonos, a watery Eden that serves delicious coffee in the morning and rainbow-tinted master crafted signature cocktails at night.