The Villa
Villa Coral is a luxury resort in sunny Aleomandra, offering 2 Master bedrooms, 1 Suite, 1 Master bedroom, and 1 Double bedroom - all of which have king-size beds and en suite bathrooms. Traditional Cycladic architecture blends with modern elements for a masterstroke of design and comfort: enjoy swimming inside the tranquil waters of the infinity pool, rest atop the portable sunbeds on the lounge area overlooking ancient Delos, have a light snack or a barbeque at the shaded dining area, all the while taking in the fresh breeze of pastoral Greece. Resplendent with handcrafted pieces of furniture and white-washed surfaces, this luxury villa in Mykonos is all about spaciousness and freedom of movement, designed with seemingly uninterrupted and unrestricted corridors that "flow" naturally unto each other. Wood, stone, and silky linen dress Villa Coral in platinum white and shades of rusted metal equipping its palette with natural colors. Drawing inspiration from Venetian architecture, intermingled with a more cubist approach and a dash of postmodernism, Villa Coral is a museum of structural design as much as it is a luxury resort.
Read More
The untamed beauty of Aleomandra
Aleomandra resembles a slice of mythical Olympus: from the silver coasts of Ornos and Kapari to the lush oleander-dressed streets and hilltops, and back to the sunbathed rooftops of cubist-style houses, this is a sight to behold. However, this pocket dimension of solar solitude is truly an illusion, like not even 6 km away beats the heart of Mykonos Chora, the center of summer bliss. If it is shopping, bar diving, sightseeing, souvenir browsing, or seeking the ideal delicacies that will tickle your appetite, then you shall find it all well within reach. What's more, concerning your return, the Mykonos Airport is less than 6 km away, although every second in breathtaking Aleomandra is worth cherishing. A balanced infusion of contemporary and rustic, of cosmopolitan and traditional, Aleomandra has but one disclaimer: all dreamers welcome.
Live as Olympians in Villa Coral
Bask over the unending azure of the Aegean from your private terrace, sample Greek wines at the modernly designed dining room, or spend hours seeking the end of the infinity pool - this is but a sample day in Villa Coral. Apart from 24/7 concierge service, access to A/C in all rooms, Wi-Fi, and all modern amenities, you can arrange relaxing Spa massages, daring helicopter tours, private chauffeur and chef services, as well as yacht rentals. Indeed, Villa Coral's splendid interior and exterior design are only matched by the plethora of services you can enjoy here. Discovering the undisclosed, mystifying wonders of Mykonos each day is a magnificent, yet taxing task - having the sanctuary of Villa Coral eagerly await your return, is invaluable in its own right.
Villa Layout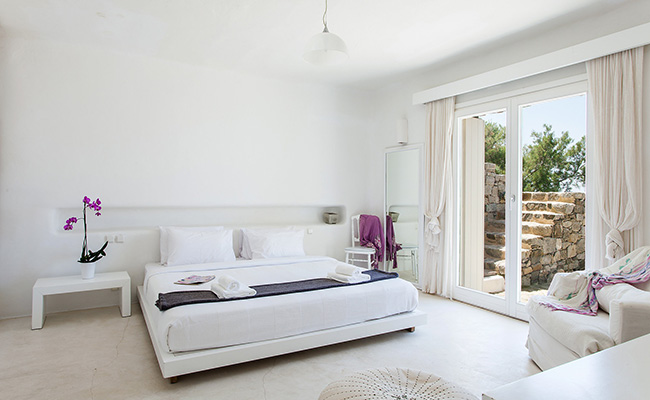 Ground Level
2 master bedrooms, with king size beds and en-suite bathrooms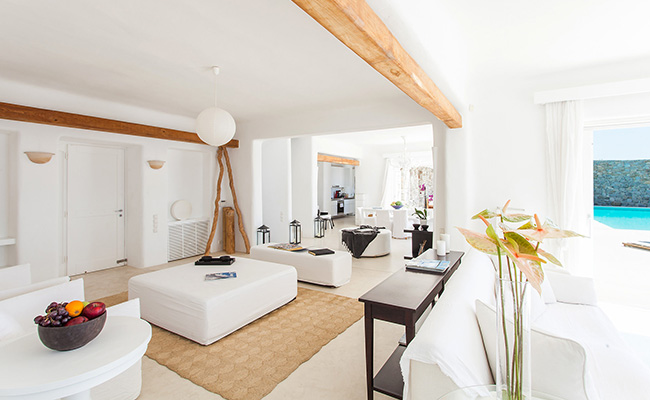 1st Level
1 suite with king size bed and en-suite bathrooms
Living room
Equipped Kitchen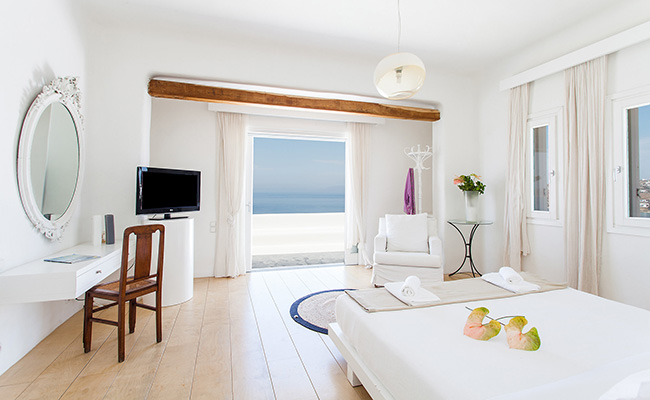 2nd Level
1 Master bedroom with king size bed and en-suite bathroom and private terrace
1 Double bedroom with king size bed and en-suite bathroom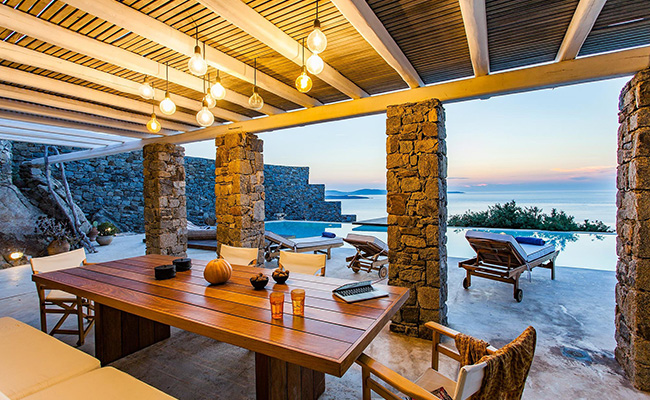 Outdoors
Infinity pool
Loung area ith sunbeds
Shaded dining area
BBQ
Parking
Amenities
A/C
TV
Wi-Fi
Equipped Kitchen
Dining area
BBQ
Bath toiletries
Lounge area
Bath / pool towels
24-hour concierge service
Infinity pool
Complimentary Services
Luxurious transfers upon arrival and departure
Daily light housekeeping
Change of bed linen & towels twice a week
All taxes
Services Upon Request (Extra Cost)
Private chauffeur services – Disposal or on call
Car rentals
Event planning
Private chef
Spa and massage services
Yacht rentals and excursions
Helicopter Tours
Villa Policy
Check in after 15:00 / Check out until 12:00 noon
Smoking allowed only outside
Distances to hot spots:
| | |
| --- | --- |
| Mykonos Chora: | 5.5 km |
| Ornos beach: | 2.5 km |
| Mykonos Airport: | 5.9 Km |
| New port: | 8.4 km |
| Nammos (Psarou Beach): | 5.4 km |
| Scorpios: | 7.5 km |
| Principote (Panormos Beach): | 9.9 km |