16 November 2022
Mykonos Areas | Choulakia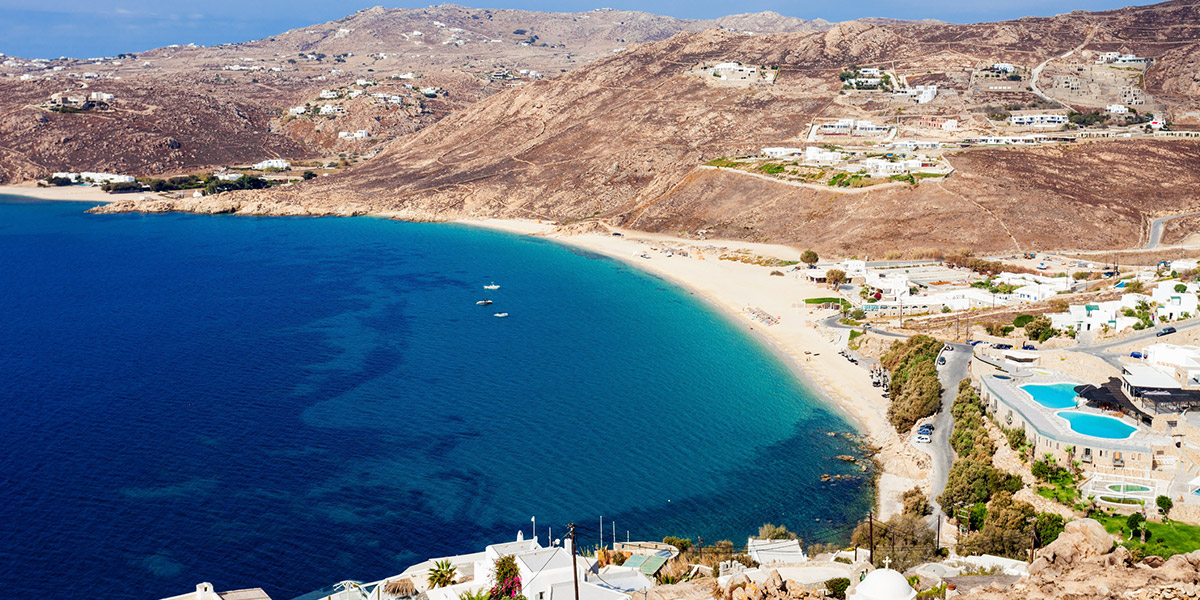 Cosmopolitan and charming, picturesque and sophisticated, Mykonos has been the idyllic sanctuary for people all across the globe for dozens of years. The "aeolian isle" is known around the world for its windmills, the rocky hills that gently cascade to sandy beaches, for its vibrant nightlife, and, of course, its trademark mascot, Petros the Pelican. Mykonos also offers an abundance of points of interest for those who love natural beauty and history, featuring attractions such as archaeological sites, monuments, churches, and picturesque settlements. The harbor is equally welcoming to luxury yachts and small fishing boats, adding another touch to the island's enchanting image.
Location
In the northern part of the island, just 4 km away from Chora, lie Choulakia (or Houlakia). Choulakia is better known as the "sandless beachfront", for within its vicinity you will encounter not sand, but perfectly rounded and colorful prehistoric pebbles. They are unique to Mykonos and cannot be found anywhere else in the world, and as such, are coveted by many guests all over the world. This particular area is considered protected and it is forbidden to take with you any of those large round pebbles (that are called "houlakia" in the local vernacular), you are, however, strongly encouraged to take many selfies to forever etch your visit in the kaleidoscopic beach.
Where to stay
Nothing beats a day admiring the magnificent rainbow pebbles of Choulakia than returning to a luxurious and well kept villa - you are in luck, for this area is filled with such architectural wonders of accomodation. For a sunset view to "die for" try Villa Diana, which resides atop a lush green hill and is a 10 minute drive away from local restaurants and bars. For something more "splashy", why not dip your feet at the infinity pool of Villa Crystal, whose private 47m2 pool does the name "Crystal" justice. Finally, for something a bit more "regal" and over the top, why not live as kings and queens of yore at the (officially voted) "best villa in the Mediterranean", Villa Cleopatra, a deluxe complex that redefines the meaning of the words "luxury" and "cosmopolitan".
Where to eat
Choulakia is home to some of Mykonos' most excellent restaurants, with chefs that dared to pour their creativity and culinary talent into radical yet trend-setting recipes. As such, try something from Reeza restaurant of Rocabella Mykonos (reeza is the Greek word for root), where cooks use exclusively raw ingredients that resonate within classic Greek recipes passed through generations, honoring traditional flavors but also adding a modern flair - their so-called "emotional cooking". Not far from Reeza, you will find Molaraki Mykonos, a more mainstream restaurant that deals in simpler yet equally delicious dishes. Finally, for something purely "Greek" try the seafood at Mathios Tavern, a traditional "taverna" that has served hungry patrons since 1964.
Where to have fun
Nightlife in Choulakia never rests, as its scrumptious traditional fish taverns are only matched by its scrumptious bars. For a relaxing evening by the seaside, try Cantina Petran Bar, where chill vibes coalesce with mouth-watering cocktails to form a perfect spot for R' n R'. Mainstream music meets alternative music in a bar that never sleeps, as is customary in Mykonos.