3 November 2022
Mykonos Areas | Ftelia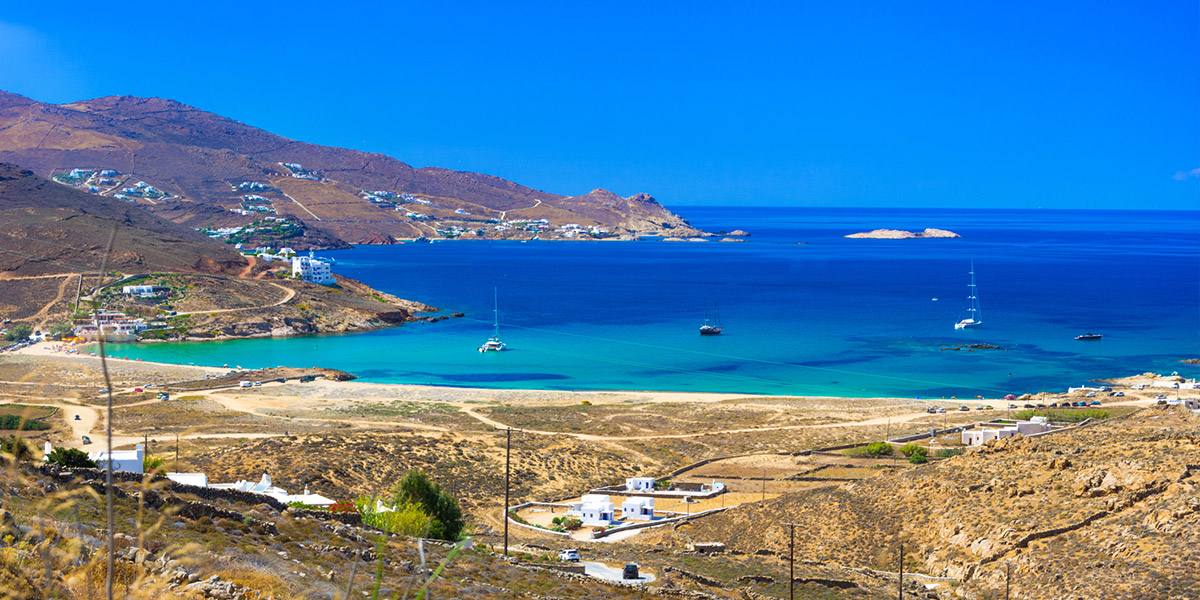 Ftelia is one of the favorite beaches of surfers in Mykonos, and that's not by accident. Clear waters, lush green parks, athletes jogging and surfers catching waves or partaking in some other similar water sport. Ftelia is essentially an enclosed bay, meaning that waves are ideal for such water activities. However, do not let this fact dissuade you from visiting this silver beachfront on windless days, as it then that Ftelia looks like a peaceful lagoon, spreading its vastness between idyllic greek manors and the ephemeral sea.
Location
Ftelia is located in Panormos, almost seven kilometers east of Chora and is a fully fledged and organized beach: Umbrellas, sunbeds, showers, changing rooms and, of course, a beach bar. Another great advantage that sets Ftelia apart from other Mykonian beaches, is that it has a lot of free space, as the organized parts are basically its two ends. Many rank it among the most beautiful beaches of Mykonos, both for the crystal clear sea and the golden sand, as well as for the natural landscape, which is characteristic of the island, but at the same time extremely unique.
Archaeological interest
Ftelia is also one of the points of archaeological interest in Mykonos, with some researchers claiming that there is the tomb of Aiades of Lokros, a fabled hero of the Trojan War, who was worshiped on the island in the following years. Moreover, findings of a Neolithic settlement dating back to 4,500 BC have been found there. So, apart from a surfer's meeting point, a natural landscape aficionado and a history buff's research field, Ftelia is in possession of great and glamorous hotels, restaurants and bars.
Where to stay
Ftelia is home to some of Mykonos' most lavish, cosmopolitan and illustriously renovated villas. Give Villa Olivia I a go, a brand-new 5-bedroom villa constructed in 2020 which boasts two private swimming pools and a heated jacuzzi, while at the same time commanding a breathtaking view of the sea. Or maybe spend your time at Villa Olympia, a 5-bedroom high-profile resort that rests on a private land of 8000m2, at about 300 m from the water's edge, combining the primitive yet artful Cycladic architecture with a modern al fresco style. Whatever accommodation you so choose, Ftelia's hospitable residents will make you feel as an honorary islander yourself.
Where to eat
It is no secret that Mykonos has no shortage of high quality restaurants and fishtavers, with Ftelia being no exception to this rule. For something more quite exquisite and original, try Ftelia Pacha, which serves healthy Mediterranean food with redefined and tweaked Greek and Spanish recipes. Here you can sample oysters with vinegar, a wide selection of exotic fruit platters and freshly prepared juices that sparkle with iridescent colors, all the while enjoying the seaview. If you are in the mood for something a bit more alternative, then try Principote Mykonos, a spacious beach club and restaurant with Mediterranean cuisine, sushi bar and hookahs.
Where to have fun
You cannot go wrong with Ftelia Mykonos Club, a top-end resort that offers drive-through services and is island-wide renowned for its mastercrafted signature cocktails. Sample aromatic Mediterranean cuisine while taking in the unspoiled, verdant vistas of Ftelia. For those who are feeling more "underground", we recommend Alemagou, an open-air seafront hangout with a bohemian atmosphere, that serves cocktails and Mediterranean dishes lavishly prepared with fresh produce.