1 March 2023
Mykonos Areas | Paradise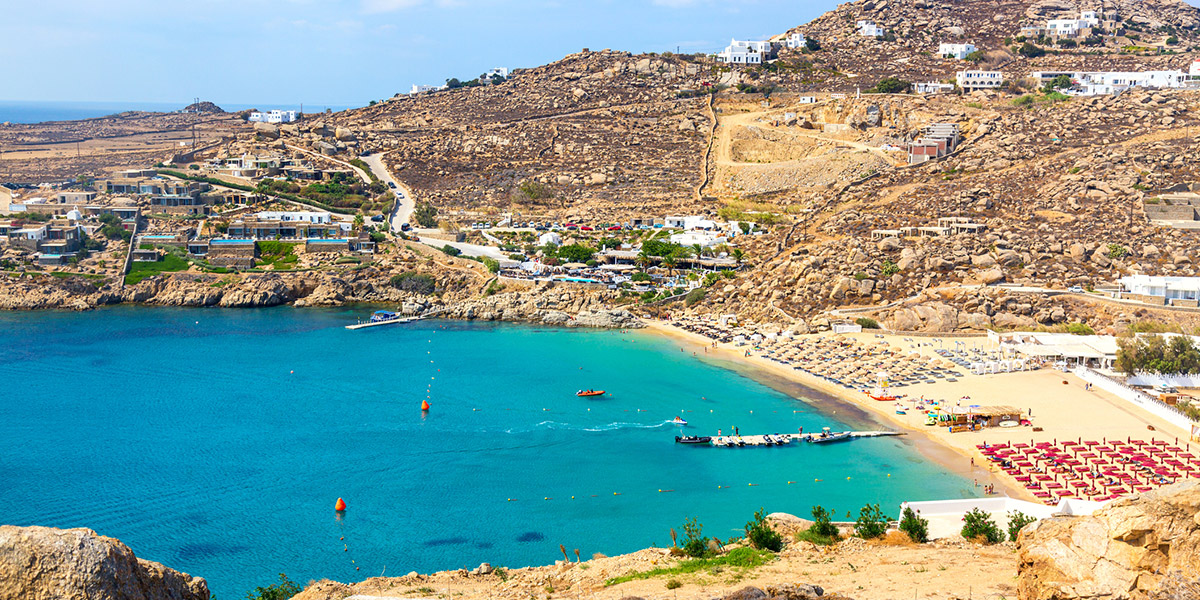 The word "party" is intertwined with Mykonos, but when we are discussing luxurious beaches, three more words come to mind: Paradise and Super Paradise!
Location
Paradise is a beach on the south coast of Mykonos, famous for its inexhaustible parties that never seize, its world renowned clubs and its quality bars. It has impeccable infrastructure (umbrellas, sunbeds, showers, changing rooms, comfortable parking) with the Paradise beach bars known throughout the island. After all, here lies one of the organized campsites of Mykonos and right next to it is the club Cavo Paradiso, famous all over the world.
The beach
It is only natural that Paradise is preferred by the youth, whether of age or spirit, who party on the sand from one morning to the next. After all, the music emitted by the bars and cafes begins rising in volume from four o'clock in the afternoon, setting the pace for what will follow (as long as the patrons can stand it).
The beach itself is beautiful, with coarse sand and clear blue waters, topped with exotic beach bars that deal in lavishness and cosmopolitan decadence. In addition to driving (there is also a bus from Chora), you can also reach it by boat from Platy Gialos. Moreover, if you're into watersports (and not only parties), you'll find plenty to do there, as there is also a professional diving center for you to attend lessons in.
Where to stay
There are few places in Greece that exemplify and live up to the real essence of quietism, the feeling of blissful tranquility and solar solitude. One such place is the 7-suites Ataraxia Estate in Paradise, a private retreat designed to the smallest detail, from a personal gym and tennis courts to private infinity pools and dining rooms able to host 60 people.
Where to eat
Eager to try some real Greek, French and Mediterranean cuisine? Visit La Maison de Katrin Restaurant in Paradise, and do try the chicken filet with carrot puree, a delicacy that's sure to make your mouth water. Tired of marine dishes and traditional greek recipes? Want a break from souvlaki and kalamaraki? Sample the curry delicacies of the Indian Palace, a food establishment that matches its exotic menus with its continental interior design. For a dash of wonder, a dalamp of creativity and hefty doses of delicious, fresh ingredients, visit PARAJ at Super Paradise Mykonos, where sensations blend with music and a magnificent view in a truly grandiose experience. Finally, to fill up your batteries before a full day of wandering and excitement, sip your espresso at Cavo Cafe and take in the morning Aegean breeze.
Where to have fun
The bustling beachside of Paradise is home to the namesake Paradise Beach Club Mykonos, a most illustrious establishment that features a spacious dance floor, hosting DJs from around the world. Equally deluxe yet even more tropical, Tropicana Beach Bar - Restaurant is one the hottest bars upon the sandy bay of Paradise, a place where liquid magic pours unto crystal glasses and Disc Jockeys mix mainstream and alternative hits.