Paradise
7
|
8
|
14 +

4
The Villa
Quietism is a state of absolute calmness, a space in time where there is no undesired noise, movement or even thought that can disturb one's peace. In Greek, the word for these totally blissful moments is Ataraxia. If you look up for its definition in the global map, you will be guided to the legendary Aegean Sea, home of the Cyclades island complex that is known in the whole world for its ancient history and spectacular beauty. The Archipelago consists of 33 islands, some deserted others with a population of maximum 200-300 people. Among them, the shiniest of all is Mykonos; a super cosmopolitan, always rocking, celebrity paradise and at the same time, due to its extraordinary energy, a symbol for the most luxurious escape in a land of absolute quietism. Provided of course that you take the road to Ataraxia.
Read More
Read Less
More than a dream residence that meets even the highest standards of the most demanding travelers, the 7-suites Ataraxia Estate is designed to the smallest detail as a 10-star private retreat that offers its guests royalty services and full protection from indiscreet eyes, both in the outside and the inside. Built on a hill, only a few miles from Chora, Mykonos capital, the estate overlooks Paradise Beach; one of the most beautiful beaches on the island, with crystal clear blue-azure waters and thin golden sand. Once the huge wooden gate closes behind you, Ataraxia will start deploying its unique features that will undoubtedly make your stay an unparallel experience to be kept in your heart.
On the outside, a wild variety of the local flora has been wisely composed by the best garden architects of the country, to form shady corners of the outmost privacy where you can relax by letting the Aegean breeze bring the provoking summer scents. Either you want to spend a Zen day in close company or you are in a mood for partying with your guests, you just name it and the best possible version of your wish will come true: have a gourmet breakfast by the 120m2 pool, trying mouthwatering local delicacies, hide behind your sunglasses and enjoy watersports on the beach; take a nap on your signature bed and then exercise at the fully equipped gym of the Villa or place your bets for a friendly game at the basketball or the 5x5 courts. In the evening ask your driver to take you to one of the renowned fish restaurants or have a 60-person exquisite dinner at home, before making the "connaissance" of the world-famous Mykonos nightlife.
All members of Ataraxia's personnel -including your upon request personal butler, executive chef, nannies, personal trainers, security guards etc.- have received a very special training on fine servicing and sealed-lips discretion, so that they can guarantee you an unforgettable, top-quality stay. Because in Ataraxia even the tiniest details that form the epitome of excellence in hospitality have been taken care of, before you can even think about them!
Bedrooms & Bathrooms
The signature mattresses of the SIMMONS Bedding Company are the highlight in each bedroom.
2 Master bedrooms
(35m2 + 34m2)
Featuring big dressing closets Sea View and their own veranda with private outdoor hot tub
King-size beds
En-suite bathrooms (one open plan)
Access from the main entrance
3 Deluxe double bedrooms
2x Double beds, 1x Twin beds (possibility to turn to double bed)
En-suite open plan bathrooms
Deluxe Sea View

(34m2)


Exterior entrance, big dressing closet, sea view with balcony doors providing pool access

Deluxe Pool View

(32m2)


Exterior entrance, pool view with balcony doors providing pool access

Deluxe Room

(32m2)


Exterior entrance, natural day light.
1 Family Suite
(70m2)
Featuring open space sitting and sleeping area
Huge open plan wardrobe
En-suite bathroom that can be quartered off by this impressive paravane sliding door
Possibility to host one extra adult or two young children on the sofa bed
Natural day light
King-size bed
Exterior entrance
1 King's Suite
(138m2)
Secluded by itself in the garden
Boasts of its own private heated and jetted pool and sun deck
Features a living room, a guest WC, a walk-through closet area and an en-suite bathroom
King-size bed
Can host an extra adult or two young children on the sofa bed
Bathrooms
Luxurious en-suite designer marble bathrooms with shower cabins and separate WC
Villa Layout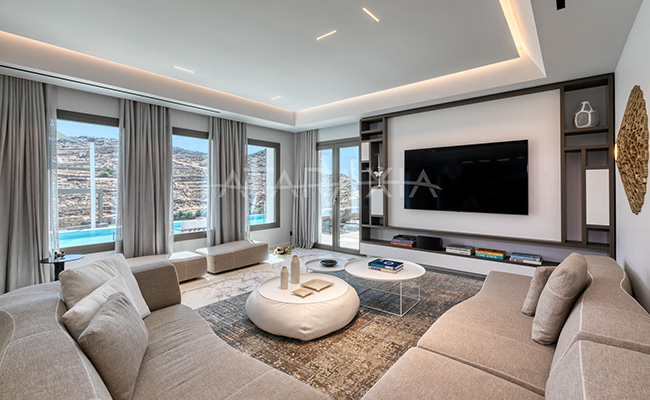 Interior (500m2)
Living and dining area
Living room with fitted bar area and a TV ensemble
Extra dining room adjacent to the kitchen and boasts big windows to have the alternative of inside or outdoor dining. Seats up to 10 persons. The outdoor dining area is offered for more guests for ensemble dining
Fully equipped modern kitchen, which can be quartered off
A guest WC/Shower room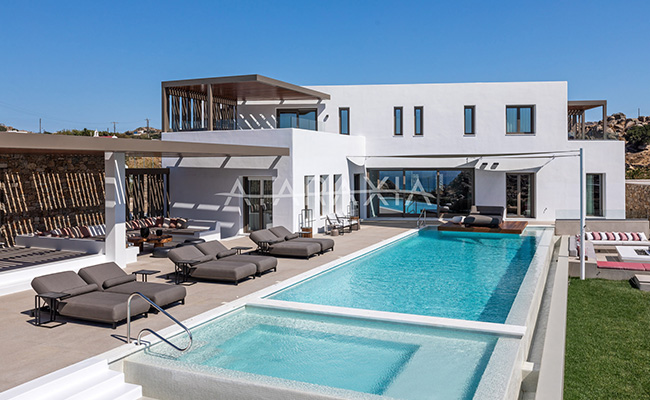 Exterior (4,000m2)
A wild variety of the local flora has been wisely composed in the extended gardens to blend in with the local aura. All materials used are of the highest standards
The large professional fully equipped kitchen (with pantry space), allows for plenty of room to prepare parties or events of up to 60 persons. It is adjacent to the outdoor covered dining area that can sit up to 16 persons. A bar compliments the dining area enjoying full sea view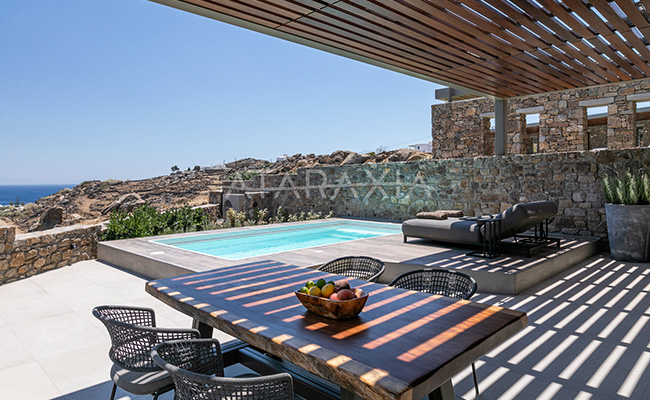 Pools & Lounging
120m2 infinity view with reverse swimming facility
Adjacent hot tub for up to 12 persons
Sun deck with sun beds
WC and Shower room
Two levels of lounging areas (sunny & shady all day long)
One by the pool next to the sunbeds
The second one, one level down from the pool, featuring a center fireplace
Full sea views can be enjoyed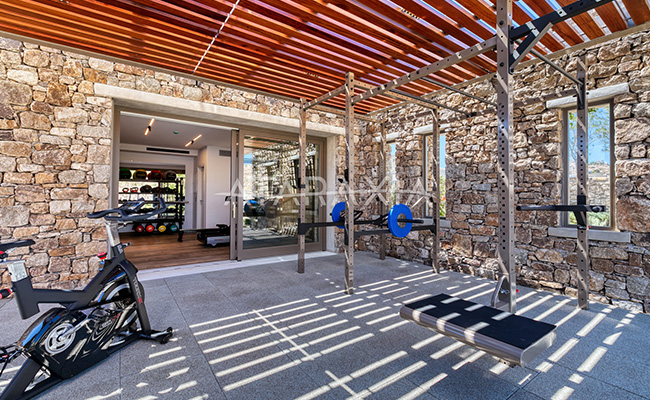 Gym & Activities
Fully equipped with the latest modern apparel, indoor and outdoor gym
Outdoor area with foam matting
WC
Basketball court (one blackboard)
Mini soccer
Table tennis (outside the gym)
Amenities
Safe (in each bedroom)
Mini-bar cooler (Living room)
Kettle (water boiler) and tea/coffee making facilities (Living room)
Personal temperature-controlled Wine Fridge (King's suite)
Nespresso coffee machine (in each bedroom & in the kitchen)
Electric shaver outlet, 120 Volts (Bathrooms)
LCD TV with satellite channels (Living /dining room – Bedrooms)
Music player – SONOS surround sound system
Playstation and games
Free of charge full WiFi coverage in all areas and guest rooms
iPad for the duration of the stay
Air-conditioning (central unit, individually controlled in each room)
Security alarm system
CCTV
Remote control for the gate
120m2 pool with reverse swimming
Outdoor hot tub for up to 12 persons
Private outdoor hot tubs (master bedrooms)
Private jetted and heated pool (King's suite)
Beach & pool towels
Indoor & outdoor fully equipped gym
Bathrobes & slippers
Hairdryer, Make-up mirror
Range of Distinctive Bathroom Amenities & Kids' Toiletries
Private covered car park – 6 spaces
Basketball court (one blackboard), mini soccer and table tennis
Back-up generators and water tank (in case of local electric and water shortages)
Baby cot on request
Security
Private road leading to the private gate
Outside parking area for all delivery and transfer cars
Reception office to be manned privately or by the team of the estate
All bedrooms have
their own privacy
(interior and exterior access) security doors
their own individual alarm system
safety deposit box
CCTV capturing all points in the parameter, but ensuring the guests' privacy
Complimentary Services
Luxurious transfers upon arrival and departure
24/7 concierge services
Twice daily maid service (1 in-house cleaning lady)
Professional chef for the everyday meal needs
Welcome pack (Champagne/fresh seasonal fruit juice or traditional refreshment upon arrival)
Extensive welcome pre-stocking offer (fresh fruits, flowers, Greek delicacies, wine, mineral water, soft drinks)
Fresh Fruit basket refreshed every 2 days
Kids' welcome surprise
Pool and garden care
Services Upon Request (Extra Cost)
Private chauffeur services – Disposal or on call
Car rentals
Event planning
Private chef
Spa and massage services
Yacht rentals and excursions
Helicopter Tours
Distances to hot spots:
| | |
| --- | --- |
| Mykonos Town (Chora): | 4.4 km (2.73 mi) |
| Airport: | 2.9 km (1.80 mi) |
| New Port: | 7.6 km (4.72 mi) |
| Nammos: | 4.2 km (2.61 mi) |
| Scorpios: | 1.7 km (1.06 mi) |
| Principote: | 9.3 km (5.78 mi) |
| Ornos: | 4.8 km (2.98 mi) |
| Closest beach (Paradise Beach): | 750 m (0.47 mi) |