The Villa
Villa Adelina is a 7-bedroom lavishly built resort in sunny Pouli of Mykonos, able to accommodate up to 14 guests and spanning over 550 m2 across multiple levels. In more detail, Villa Adelina features: 1 master bedroom with king-size bed, 2 Double bedrooms with en-suite bathrooms and 4 Guest Houses with double bedrooms and king-size beds - all rooms come with en-suite bathrooms, access to the terrace and breathtaking view over the Aegean. Namely, the 2 bedrooms also offer glass views to the inside of the infinity pool, lending a most relaxing atmosphere to them. The interiors follow the white minimalist Mediterranean style of the Cyclades: white surfaces, arches and washed wood mix with al fresco and dead nature elements to form a magnificent result of master craftsmanship. Suffice to say that all bedrooms are decorated with soft luxurious fabrics, while the kitchen is fully equipped with cutting-edge appliances. Regarding the exterior, Villa Adelina offers an extended lounge and pool area, a lovingly crafted pergola with outdoor dining area, comfy portable sunbeds and built in linen sofas - with the marvelous islands of Delos and Rhenia staring you right into your eyes, you'll make sure not to miss a single sunset without taking in the view. A combination of white, stone and blue skies is predominant in this fine property that follows the conventional Cycladic style, packing however quite a vibrant personality. For larger groups, villa Adelina can be ideally combined with Villa Aura which is located right next to it.
Read More
Pouli: A Mediterranean wonder
Serene, tranquil Pouli, a true Mediterranean wonder hidden within the ever illustrious and cosmopolitan isle of decadence and over-the-top pleasure. Villa Adelina is nestled deep within this quiet and harmoniously balanced resort. With the celebrity-infested beach of Ornos just 2.2 km away, however, and the equally loved by tourists Agios Ioannis Beach only 3.8 km away, you will always be in close proximity to opulent beach bars, delicious cocktails and nonstop music. If you wish to unearth the natural mysteries that summer time Greece has to offer, however, then you have to let yourself get lost within the sugar-cube houses of pastoral Pouli, breathe in the freshness of breezy Aegean, allow the saltwater wind caress your face and traverse the verdant parks encircling the neighborhood.
Villa Adelina: Live the idyllic Cycladic experience
Turquoise windows, creamy corridors, an uninterrupted view from within the spacious room until the never-ending line of a hungry horizon: Villa Adelina can be your private summer sanctuary, offering a confined and safe place packed with all modern conveniences and amenities that a full-fledged high-profile resort can feature. So dare to dream and take a chance with Adelina, your window into the Mediterranean.
Bedrooms & Bathrooms
1 master bedroom with king-size bed, en-suite bathroom, A/C, terrace access and sea view
2 Double bedrooms with en-suite bathrooms, A/C and pool glass view
4 Guesthouses with double bedrooms and king-size beds, each with en-suite bathroom, A/C, terrace access and sea view
Villa Layout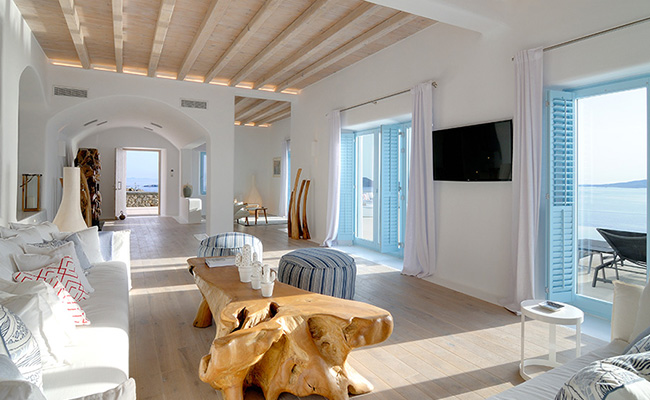 Pool Level
Entrance hall
Living room with sea & pool view
Dining area
Fully equipped kitchen
Outdoor dining area
Guest WC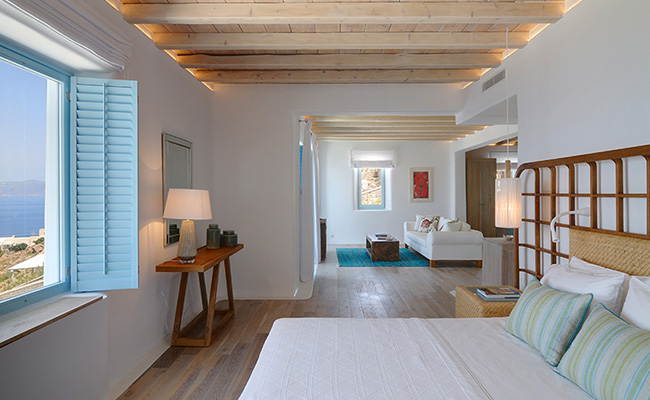 Upper Level
Master bedroom with en-suite bathroom
Living room
2 bathrooms with shower & toilet rooms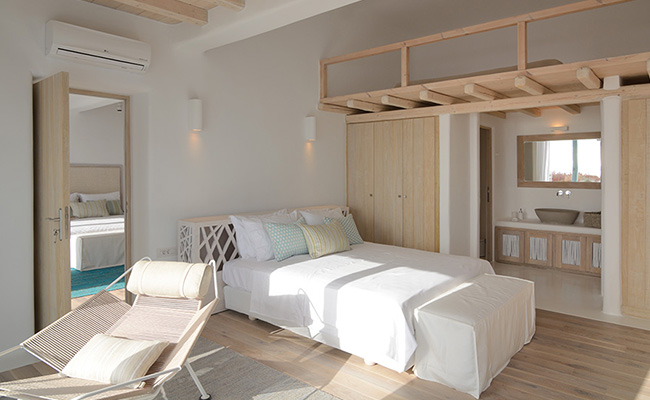 Lower Level
2 double bedrooms with en-suite bathrooms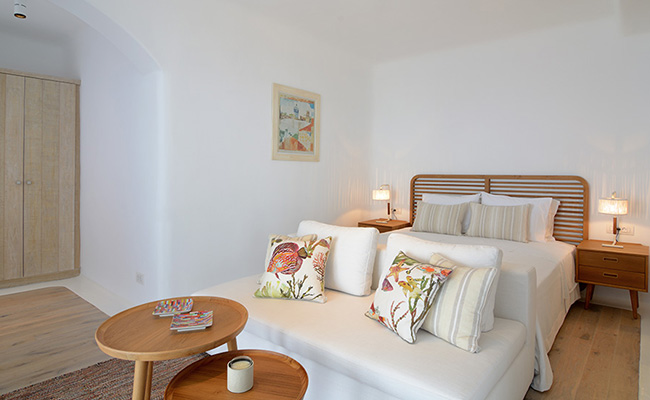 Guest House 1
Double room with private entrance and en-suite bathroom with access to the main house (shower & toilet room, king size bed, A/C, TV, safe box, terrace access, sea view)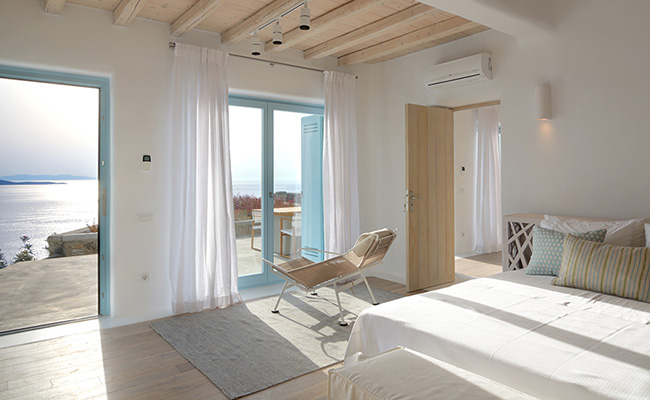 Guest House 2
Double room with king size bed and private entrance + attic with double futon bed and en-suite bathroom (shower & toilet room, A/C, TV, safe box, terrace access, sea view)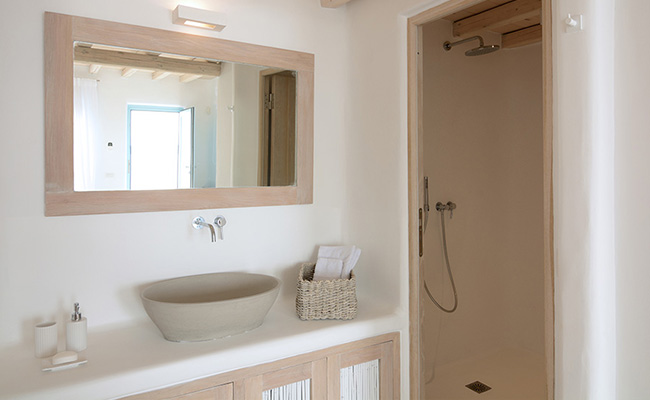 Guest House 3
Double room with private entrance and en-suite bathroom (shower & toilet room, king size bed, A/C, TV, safe box, terrace access, sea view)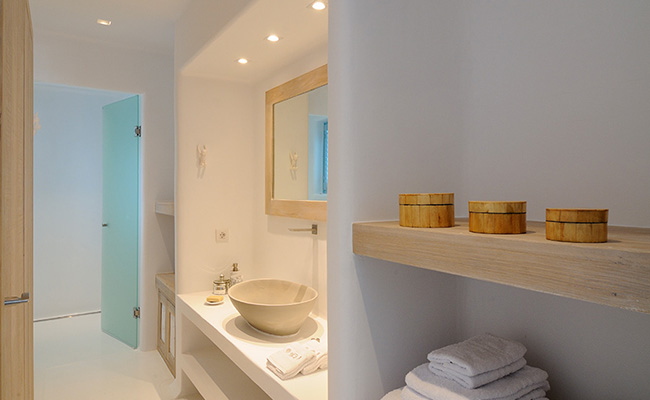 Guest House 4
Double room with private entrance and en-suite bathroom (shower & toilet room, king size bed, A/C, TV, safe box, terrace access, sea view)
Amenities
Pool Facilities
Private Infinity Pool
Sunbeds
Seating & Lounge area
Pergola with outdoor dining area
BBQ
Pool glass view
Outdoor
Helipad
Outdoor dining area
Garden
BBQ
Balcony/Terrace
Seating areas
Entertainment
Sound System (indoor & outdoor)
Satellite/Cable TV
Internet Access (Wi-Fi)
General
Climate Control: A/C in all bedrooms and living room
Gated Property & Alarm
Safe boxes
Parking Space
Washing Machine
Fully equipped modern kitchen
Baby cots – Highchair - Baby bath upon request
Hair dryers
Complimentary Services
Luxurious transfers upon arrival and departure
Daily cleaning and housekeeping
Change of linen/towels twice per week
Change of pool towels twice per week
Property, garden and pool maintenance
Services Upon Request (Extra Cost)
Private chauffeur services – Disposal or on call
Car rentals
Event planning
Private chef
Spa and massage services
Yacht rentals and excursions
Helicopter Tours
Distances from hot spots:
| | |
| --- | --- |
| Mykonos Town: | 4.8 Km |
| Mykonos Airport: | 5.3 km |
| Mykonos Port: | 8 km |
| Closest Beach (Ornos): | 2.2 km |
| Agios Ioannis Beach: | 3.8 km |
| Nammos: | 4.7 km |
| Principote: | 9.8 km |
| Scorpios: | 8 km |
| Alemagou: | 10.8 km |
DAILY RATES FROM: UPON REQUEST