7 July 2020
Mykonos is perfect any season of the year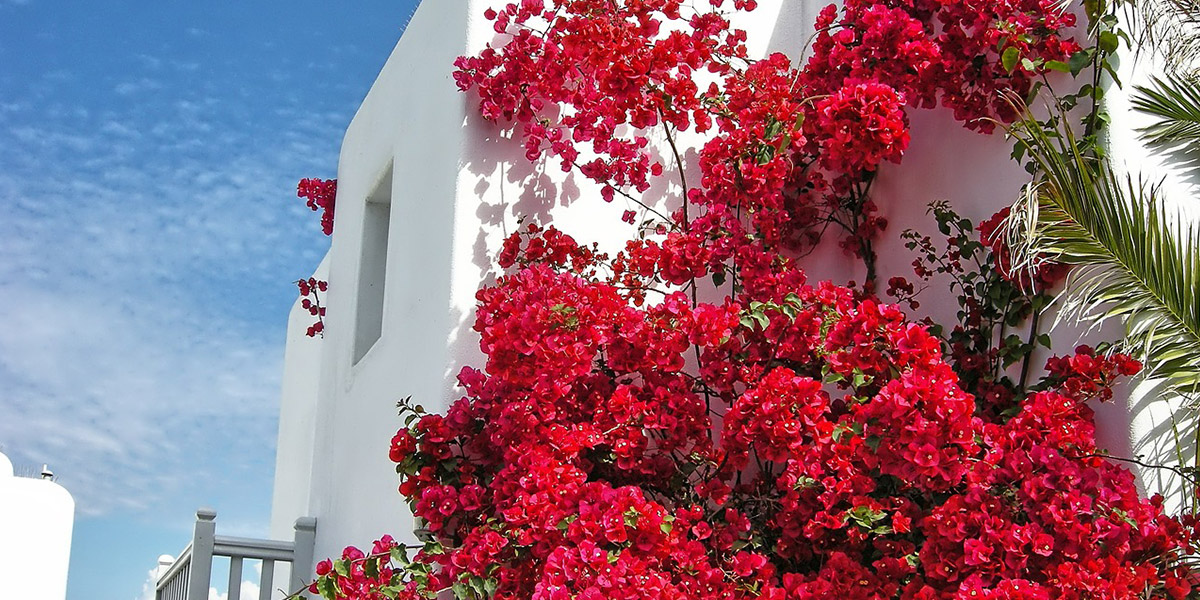 August and early September are the warmest months in Mykonos where travelers are those who wish to be mesmerized by the extravagant parties and Mediterranean heat. This is not the only period where Mykonos surprises one with its beauty.
Spring, which is between March and May is a perfect time to get to know Mykonos, as it is quieter and allows for you to walk through the towns and take in the blooming flowers and green landscapes. There are many activities available in this season including the opportunity to experience the orthodox Easter and its festivities.
September and October could possibly be the most attractive months in Mykonos. The weather is still warm to go to the beach and there are other delights that you may experience as there is a lessening of crowds. Ano Mera would be a great location at this time period as the local charm and Greek tradition will surround you with small cafes and restaurants serving authentic Mykonian food. The Gyzi Castle and Panagia Tourliani Monastery are attractions that you may visit to learn more about the history of Mykonos, speaking to the locals will paint a picture of the past while you walk through the pathways.
Mykonos from December to February is winter time. Although it is winter, the scenery in Mykonos is beautifully green and the sun is out most days. The atmosphere in winter gives a cozier and intimate feeling, where you can walk by little Venice and watch the rough sea and glorious sunset.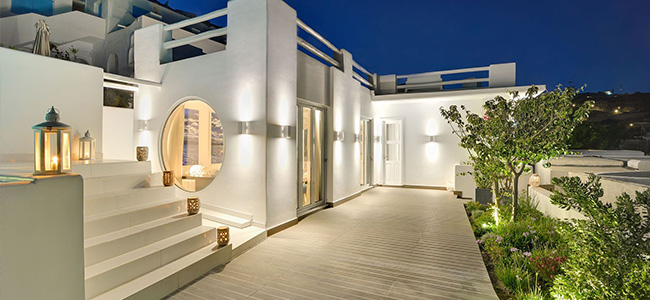 Villa Agapi located in Psarou, a 5 star boutique hotel, showers guests with luxury and comfort. The villa is surrounded by nature, famous Psarou beach as a front view and surrounding is mountain and shrubbery. Villa Agapi has four bedrooms and four en suite bathrooms included, with a garden and terrace perfect for any type of festivity made easy with an ipad formatted with a customized application for reservations and music lists. The Chef on location creates a daily breakfast for you to enjoy at the poolside of the villa.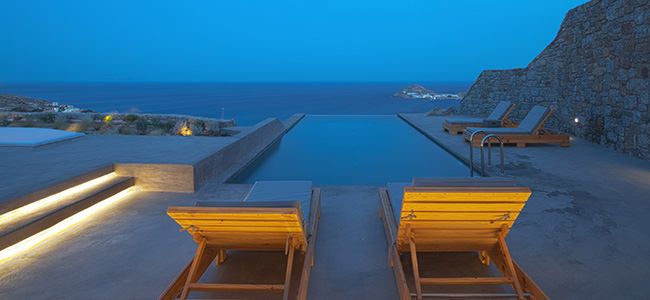 Villa Nikolina overlooking the bay of Kalafatis has a contemporary feel with minimal décor spanning 220 m2. Built on an incline, Villa Nikolina has two levels which both are strategically placed for the complete enjoyment for the view of the sea. The villa provides a four bedroom living space with en suite bathrooms and guest bathroom on the first level. The ground floor has a fully equipped kitchen for you to create meals influenced by your stay in Mykonos.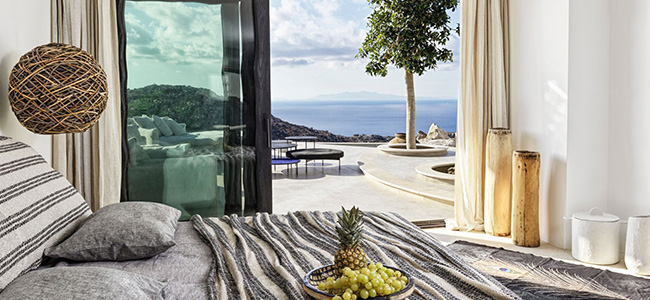 Villa Panoptis II located in Elia and is one that is for any season you wish to travel. It is a two bedroom luxury villa that has both an infinity pool and Jacuzzi, for you to enjoy water that is a little warmer in the cooler seasons. Villa Panoptis II has a lovely terrace for relaxation with stunning views of the sea and the incorporation of natural elements in the design features which allow for you to relax.
Mykonos is indeed a destination that pleases the senses all throughout the year.