The Villa
Villa Jade presents a sanctuary of pure leisure to jaded travelers and connoisseurs of luxury alike. Offering three double bedrooms (one of which has a twin bed) with en suite bathrooms, a dazzling lounge area full of comfy sunbeds, and a private pool with neon underslung lights (for those nightly swims), this is a modern manor set on a wild, untamed clifftop. Ever wondered what it's like to wake to the sound of gentle waves crashing against the silky sandbars? To meander your way, half asleep, through the enchanting corridors of a traditional greek house? To fix your coffee inside a cutting-edge kitchen and make your way outside, where the heart-stirring view takes your breath away? Well, after a visit to Villa Jade, you'll have to imagine no more. Overlooking the lovely islets of Baos and Kavouras, this resort commingles the raw, unfiltered nature of Greek islands with the compact and delicate design of a modern, ostentatious establishment, resulting in an opulent composite of both. Needless to say that special services can be arranged upon request, such as booking a private chef or planning an event.
Read More
Unveil a whole new world in Kanalia
Venture into the brick laid alleyways and serpentine cobbled streets of Kanalia, a location that manages to polymerize anachronistic architecture with the beats and palpitations of a modern city, beset on a backdrop of untouched natural beauty. Everything is just a breath away from Villa Jade, from the Mykonos Airport to the august Ornos beach, from the sun-kissed sandbars of Kapari beach to the recherché bars, clubs, and otherwise nightlife temples of an island that never slumbers. Even if (somehow) you resist the temptation and won't be seduced by the unrefined elegance of "sun, sea and sand", or the high tempo beats of the various party hotspots, then, perhaps, you will succumb to the multitude of culinary works of art that Kanalia's many restaurants have to offer. Indeed, Kanalia is also home to some of the best gourmet delicacies available in Mykonos: from vinegar marinated octopus to the ever scrumptious souvlaki, there is something for every taste bud here.
Villa Jade: Eden revisited
A jade gem above an emerald ocean: Villa Jade reconciles clashing elements of wilderness and convenience to produce a resort that resorts to its fundamentally high-quality standards, in order to provide a perfect experience. For the adventurer in heart, Villa Jade offers yacht excursions, helicopter tours, and a plethora of Spa massages, upon arrangement with the staff. Whether it's the private pool and the BBQ, the magnificent pergola overlooking the milky seas, or the concierge staff (ever ready to answer any inquiries), Villa Jade provides everything required for a vacation in summertime Greece.
Bedrooms & Bathrooms
3 Master Bedrooms with en-suite bathrooms (2 double beds, 2 twin beds)
Villa Layout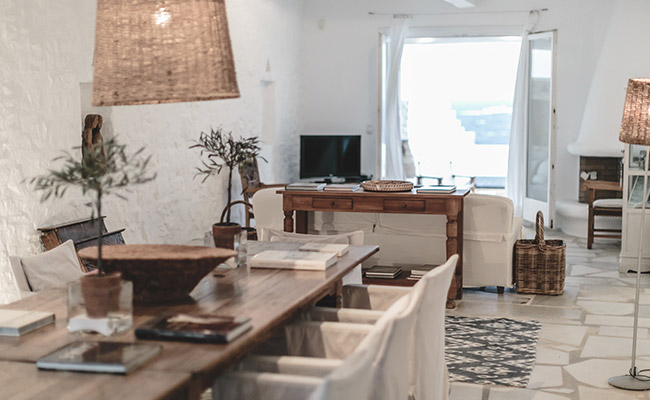 Gound Level
Living room
Equipped kitchen
1 Double bedroom, en suite bathroom
Guest toilet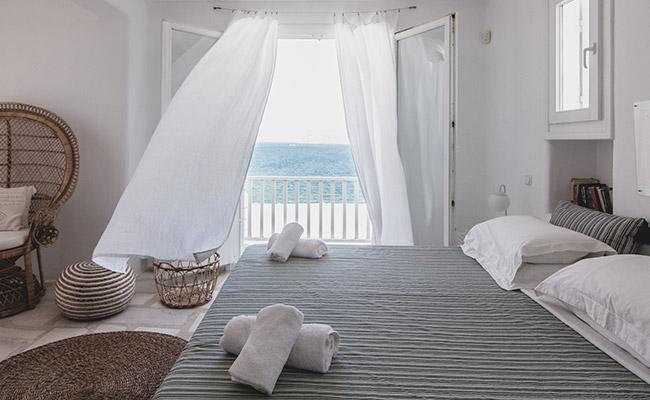 First Level
1 Double bedroom, en suite bathroom
1 Double bedroom, twin beds, en suite bathroom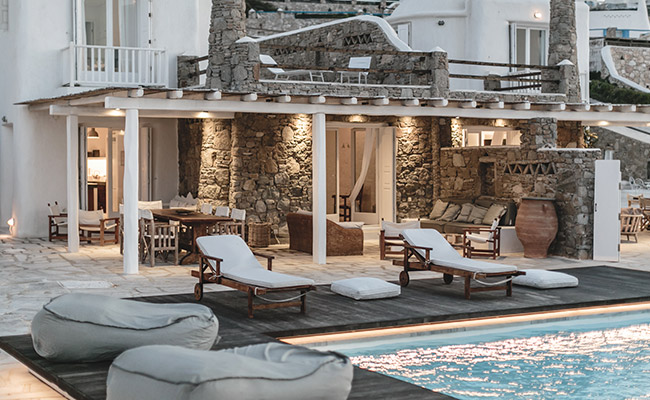 Outdoors
Swimming pool
Lounge area
BBQ
Parking
Amenities
Air Conditioning
Bath toiletries
Bath/pool towels
Dining area
Free Parking
Sea Front
BBQ
Equipped kitchen
TV
Wi-Fi
Lounge area with sunbeds
Private Pool
Complimentary Services
Luxurious transfers upon arrival and departure
Meet & Greet procedures (check in check out)
Pre-arrival shopping and delivery service
Daily housekeeping
Change of linen twice a week
Services Upon Request (Extra Cost)
Private chauffeur services – Disposal or on call
Car rentals
Event planning
Private chef
Spa and massage services
Yacht rentals and excursions
Helicopter Tours
Distances to hot spots:
| | |
| --- | --- |
| Mykonos Chora: | 5.2 km |
| Ornos beach: | 2.4 km |
| Mykonos Airport: | 5.3 Km |
| New port: | 8.3 km |
| Nammos (Psarou Beach): | 5 km |
| Scorpios: | 7.2 km |
| Principote (Panormos Beach): | 10.7 km |