The Villa
Elegance and spaciousness blend in the most transparent way when it comes to Villa Olivine in mythical Mykonos, a resort that does not settle for anything less than total comfort. Situated in rustic Kanalia and overlooking the islets of Baos and Kavouras, Villa Olivine features 3 master bedrooms and 1 for guests (complete with en suite bathrooms), enclosing its cozy "heart" within a modern (yet still traditional) exterior. Apart from the gorgeous pergola mounting the (neon light illuminated) private pool, guests will be welcomed into a seemingly uninterrupted interior, which comes with an open-plan kitchen and BBQ - each item and piece of furniture thoughtfully placed to replicate the feeling of taking a stroll within the white-washed alleyways and cobbled streets of Mykonos.
Read More
Relinquish your troubles in tranquil Kanalia
Azure waters, sparkling under the hot, Greek sun. Seemingly unending parties at the myriad "party Meccas" of Mykonos. Shopping craftmade memorabilia and souvenirs that will embalm this mystical journey in eternal memory: Kanalia really has it all. Being the chosen destination of celebrities, worldwide famous athletes, and party animals of all sorts, Kanalia is just a breath away from the sandy beaches of Ornos and Nammos, and of course the Chora of Mykonos.
Villa Olivine: A sanctuary of modernity and tradition
Modern functionality and traditional coziness need not be mutually exclusive, as demonstrated masterfully by Villa Olivine's design, where you can experience tranquil solitude while still being connected to the world. Whether you lounge by the private pool and hazily scroll your newsfeed or listen to a podcast while sunbathing, Villa Olivine reconciles classic luxury with purposeful utility in the most seamless way. Needless to say that your stay at this little slice of paradise will be supplemented with luxurious transfers upon arrival and departure, as well as daily housekeeping and free parking - the service will unburden your mind completely.
Apart from the concierge service that will be at your disposal 24/7, Villas in Mykonos offers even more of the "Mykonos Legendary Experience": upon arrangement, the Villa can set up private chauffeur services, a private chef to cook meals likened to ambrosia and Spa services worthy of the Olympic Pantheon. What's more, you could even arrange Yacht rentals and excursions, as well as Helicopter Tours if you're feeling adventurous.
So whether you choose to engulf yourself in a soul-searching journey of admiring nature's gifts, partying till the break of dawn, or a mix of both, Villa Olivine is the perfect destination.
Bedrooms & Bathrooms
2 Master Bedrooms with en-suite bathrooms (1 double, 2 guests)
1 Double Bedroom (twin beds, 2 guests)
1 Guest Master Bedroom with en-suite bathroom (twin beds, 2 guests)
Villa Layout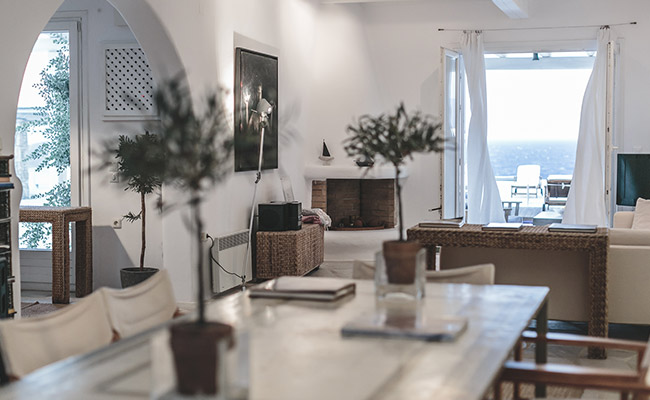 Gound Level
Living room
Equipped kitchen
1 Double bedroom, en suite bathroom
Guest toilet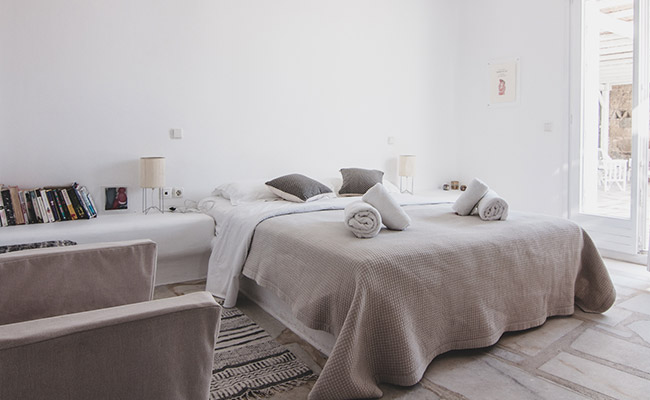 First Level
1 Double bedroom, en suite bathroom
1 Double bedroom, twin beds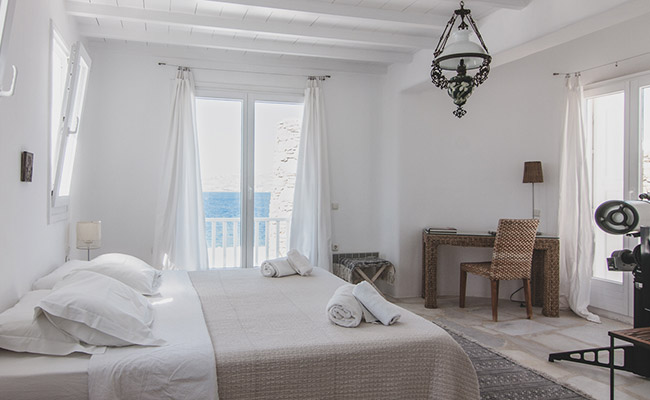 Guest House
1 Double bedroom, twin beds, en suite bathroom
Kitchenette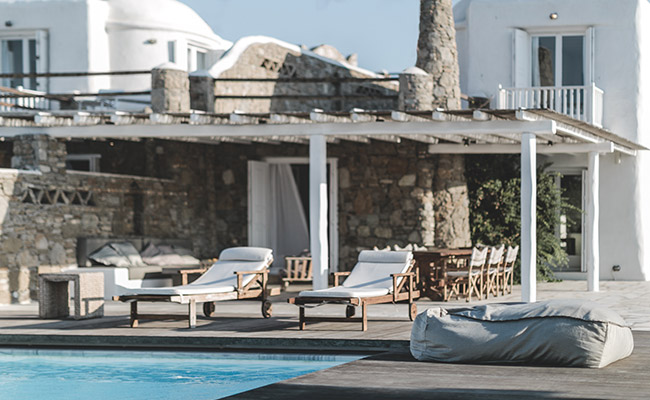 Outdoors
Swimming pool
Lounge area
BBQ
Parking
Amenities
Air Conditioning
Bath toiletries
Bath/pool towels
Dining area
Free Parking
Sea Front
BBQ
Equipped kitchen
TV
Wi-Fi
Lounge area with sunbeds
Private Pool
Complimentary Services
Luxurious transfers upon arrival and departure
Meet & Greet procedures (check in check out)
Pre-arrival shopping and delivery service
Daily housekeeping
Change of linen twice a week
Services Upon Request (Extra Cost)
Private chauffeur services – Disposal or on call
Car rentals
Event planning
Private chef
Spa and massage services
Yacht rentals and excursions
Helicopter Tours
Distances to hot spots:
| | |
| --- | --- |
| Mykonos Chora: | 5.2 km |
| Ornos beach: | 2.4 km |
| Mykonos Airport: | 5.3 Km |
| New port: | 8.3 km |
| Nammos (Psarou Beach): | 5 km |
| Scorpios: | 7.2 km |
| Principote (Panormos Beach): | 10.7 km |