15 December 2022
Mykonos Areas | Kanalia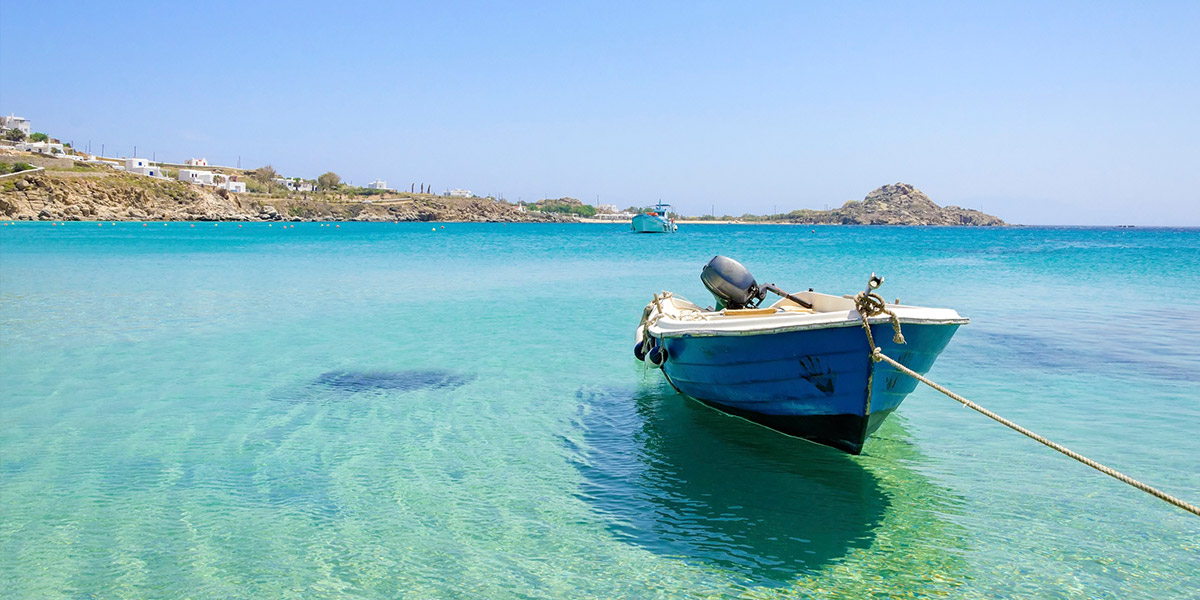 Mykonos is known for its cosmopolitan and celebrity-infested beaches. However, it also has another side, a much more tranquil and serene "sibling", where you can enjoy the islander's lifestyle with more peace and relaxation.
Location
Kanalia is located to the North West of Mykonos, winding up a picturesque by the sea trail that leads to a cozy settlement of a few dozen houses. Here you will find the old port of Mykonos, complete with its piers and docksides where once ships of trade exchanged goods and resources before a bustling, island town. Nearby, the stark white church of Agios Dimitrios offers some moments of contemplation and piety, "splashing" the wild natural backdrops with the ever present orthodox themes. Now very far from the church, a traditional well in a preserved courtyard draws the attention of a keen eyed visitor, unifying the aforementioned natural and otthodox elements with a "pigment" of history, myth and legend.
The perfect spot
Close to cosmopolitan Agios Dimitrios on the westernmost coast of Mykonos, Kanalia is ideal if you dream of your day like this: a towel on the sand, relaxing and listening to the sound of the waves breaking on the shore, diving whenever you feel the need for a little coolness. Kanalia is perfect for swimming and enjoying sunken sunsets, cocktail in hand.
Everything is just a breath away from Kanalia, from the Mykonos Airport to the august Ornos beach, from the sun-kissed sandbars of Kapari beach to the recherché bars, clubs, and otherwise nightlife temples of an island that never sleeps.
Where to stay
Within Kanalia's polymerization of rustic and wild, luxurious and modest, you will find a plethora of top-end lavishly built and renovated villas, wonders of vernacular architecture that offer both comfort and style. Try the luxury estate of Villa Vanessaa>, one of the largest Villas in Mykonos built on a plot of over 4,000m2, for an extravagant experience of living like royalty. The main villa - a 5-bedroom en-suite residence - combines traditional cycladic design, comfort and absolute privacy, ideal for families and large gatherings. If you desire something less "bombastic", then trust your stay at Villa Olivine, where elegance and spaciousness blend in the most transparent way. Equally splendid and affordable, Villa Zeolite is a modernly designed resort housing 4 Master Bedrooms and 2 Guest Bedrooms, with en-suite bathrooms for each separate chamber, that commands a most magnificent view over the mythical waters of the Aegean. In the same vein, Villa Jade reconciles clashing elements of natural beauty and modernity to procure a resort that resorts to its fundamentally high-quality standards.
Where to eat
Nothing spells mykonian greek food quite like "Busulas Restaurant Μykonos", a family business that offers gourmet recipes at competitive prices. For seafood and fish delicacies harvested right from the Aegean's cold bosom, try "Nautilus", a picturesque establishment that excels in everything marine. Finally, if you crave exotic tastes, then the recherche "Pelican Restaurant" is your destination.
Where to have fun
"Sea U Mykonos cocktail bar": a name that needs no further clarification regarding its quality spirits and creative beverages. Equally inspired, 180º Sunset-Bar Mykonos combines a fantastique location with top-level quality produce and service. Finally, "Sunset: Champagne and cocktail bar Mykonos" is a MUST for anyone who is prepping for a wild nightlife.