2 February 2023
Mykonos Areas | Tourlos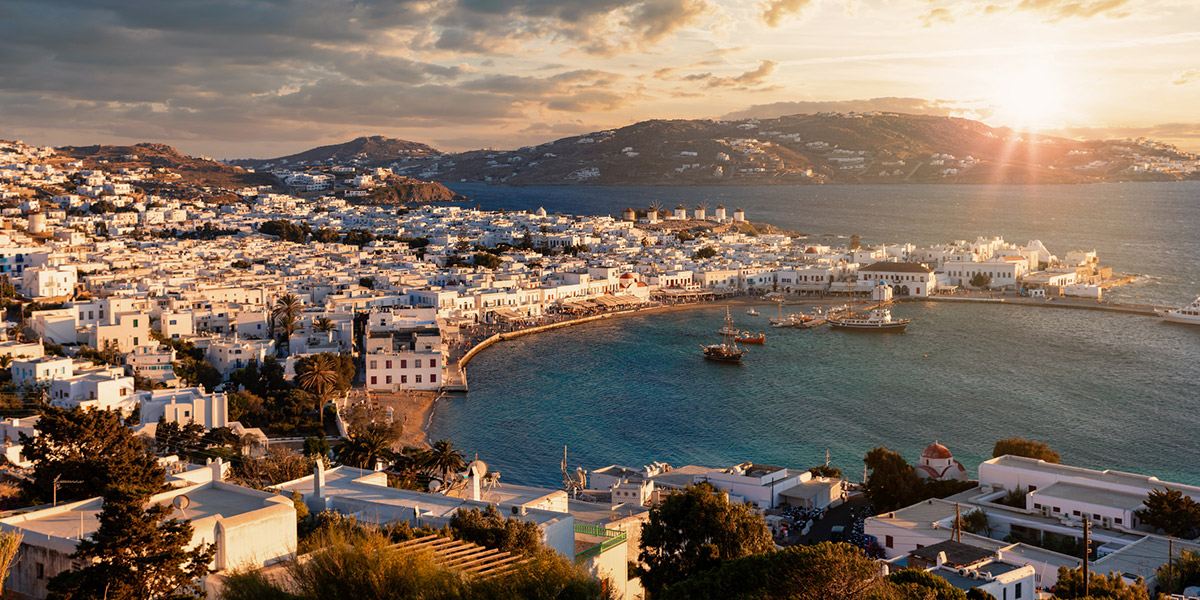 Tourlos is a small seaside village, where cubist-style fresco houses with cyan painted windows and fragrant flowers combine to create a captivating landscape. It is located on the north side of the island, just 2.5 km from Mykonos town and offers plenty of entertainment options for tourists.
Location
Tourlos sports a cosmopolitan, sandy beach, where visitors can enjoy swimming and water sports. In the past, Tourlos beach was known as one of the quietest and more serene sandbars on the island. However, in recent years this has changed, with the development of the commercial and yacht harbor: The new port of Mykonos has recently been built in Tourlos, where, in addition to ships, many of the cruise ships that visit the island dock here, bringing life to a tranquil place.
If your holiday is primarily boat based, Tours is a wonderful choice to moor your boat or private yacht away from the crowds. If you don't have your own boat, don't worry, all of the above can be rented in the area. If you are interested in antiquity, visit the well 'Pouados', with steps on the side ensuring easy access, which is preserved under the Tourlos - Corfu ring road, at the height of Tagou. Many celebrities have chosen to build luxury accommodation and villas in the area. Take a walk and you might meet them! Mykonos airport is only 4 km or 7 minutes drive away from Tourlos beach, while the excellent local bus system, affordable taxi prices and boat and yacht tours will make your stay in Tourlos unforgettable.
Where to stay
An array of spacious villas await visitors of Tourlos, ready to accommodate their every need. Villa Zircon is a 7-bedroom villa with 5 Master bedrooms, 2 attached suites with private verandas and a private pool, set in breathtaking Agia Sofia of Mykonos. Villa Opal is an 8 bedroom elegant resort occupying a total area of 383m2 and consisting of 3 distinct levels, featuring an enormous infinity pool. Villa Rosa is a magnificent 10-bedroom Cycladic chateau that can house up to 18+2 guests, offering all modern amenities imaginable and top-notch service. Villa Marietta is a 6 bedroom high profile resort with a grand jacuzzi, Villa Margaret is an architectural marvel with 9 bedrooms and Villa Pandora commands a most magnificent seaview.
Where to eat
Resto-bar Compass combines a wide selection of culinary continental tastes with simplicity and style, offering a grand view over ancient Delos and the finest of spirits to accompany the spectacle. Molaraki Mykonos is known for its generous portions and delicious desserts, while Lafs Restaurant cooks a most scrumptious mix of brunch recipes - have fresh orange juice and benedict eggs, you won't be disappointed.
Where to have fun
Mykonhoes Bar is the ideal place for a Best a cheeky pre drink, a warm up before hitting the club - try its fabled mojito. For something a bit more exotic, have an umbrella-topped cocktail at Oniro Sunset Bar - Restaurant, which offers a most exhaustive menu at day and a mixology dream stock of spirits at night.